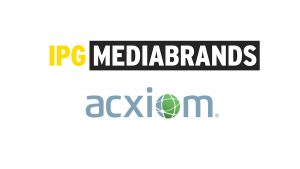 IPG Mediabrands, the global media arm of Interpublic Group, announced a global partnership with Acxiom to further strengthen the network's data and analytics capabilities. Through this partnership, agencies across the IPG Mediabrands network will accelerate their people-based targeting approach, enabling application and discovery of insights on behalf of clients.
The media network's partnership with Acxiom is IPG Mediabrands' largest analytics and data integration alliance to date, with 14 markets impacted across the globe, including Australia, Belgium, Canada, China, Denmark, France, India, Italy, Japan, Mexico, Netherlands, South Africa, United Kingdom and the United States. Arun Kumar, who in March 2017 was named IPG Mediabrands' first-ever Global Chief Data & Marketing Technology Officer, will oversee the network's partnership with Acxiom.
"Our competitive advantage and innovative services are directly tied to our data-driven approach," said Arun Kumar, Global Chief Data & Marketing Technology Officer, IPG Mediabrands. "With Acxiom, we will continue to improve upon our data strategy, enabling our portfolio of agencies to provide the highest level of client advisory services and people-based marketing solutions."
The partnership is designed to bridge offline and online experiences, while spearheading a client-centric data approach that focuses on a complete and contextual view of the customer. This level of enhanced data and platform integration directly impacts the customer experience, driving brand engagement and ROI through cohesive and operationalized data, with advanced and cross-channel analytics.
"Today's best marketers and agencies continuously evaluate technologies and alliances that can provide a true omnichannel view of the consumer, while also connecting data assets to programmatic buying platforms," noted Rick Erwin, president of Acxiom Audience Solutions. "Data applies context for interactions with consumers in both offline and online experiences. IPG Mediabrands embraces this approach and, by leveraging Acxiom's and LiveRamp's capabilities, sits at the forefront of today's most innovative marketing agencies."
As part of the partnership, the Data & Technology team, which develops and implements global product and technology solutions across the IPG network, will strengthen core capabilities on a global scale. This includes agency-driven analytics solutions, including UM's Business Analytics Engine (BAE) and Initiative's Accelerator.
"In an ever-evolving media landscape, data continues to underpin our business solutions for clients," said Philippe Krakowsky, Chairman of IPG Mediabrands and Chief Strategy Officer for IPG. "This global partnership will keep Initiative, UM, Reprise and all of Mediabrands on the leading-edge when it comes to data and analytics."
Source: IPG Mediabrands