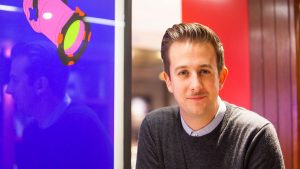 Clerkenwell-based design studio Lumsden Design announced the promotion of James Dwyer to the position of Design Director. This move sees James join The Board of Lumsden Design alongside Creative Director Callum Lumsden and Managing Director Simon Clark.
Having been with Lumsden Design since it launched in 2010, James has delivered a wide range of projects from the design of the award-winning shops at the British Museum through to the development of the MoMA stores in NYC, the Royal National Theatre and the Warner Bros. stores in London and California.
Callum Lumsden, Creative Director, Lumsden Design says: "James has been a key member of the Lumsden Design team from day one and his appointment to The Board of Directors is the result of eight years of hard work, diligence and development.
"With a combination of creative thinking, technological expertise and practical solutions, James has ensured that the creative direction on all Lumsden Design projects is consistently compelling for our clients and their end users, and his expertise is crucial to the success of each new scheme."
Source:  Lumsden Design