The Coronavirus is affecting us all across the world but none more directly than our frontline NHS staff who are working tirelessly in our hospitals. Norfolk and Norwich University Hospital NNUH has established a Wellbeing and Support service called Caring For You, which offers their staff dedicated counselling support to help them cope with this unprecedented global pandemic.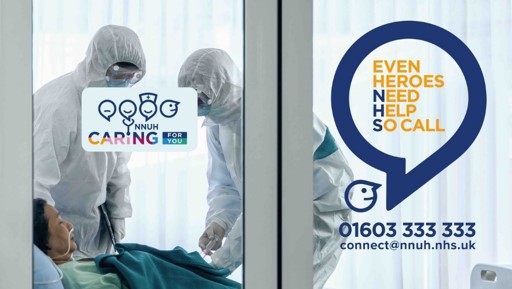 NNUH approached JDO BRAND DESIGN for help in creating an identity for Caring For You, together with support collateral to raise awareness for its launch
JDO created a colourful new identity featuring four hospital characters made out of speech bubbles to deliver personality and a human touch, whilst conveying that communication is critical amongst all the diverse frontline staff affected by Covid-19. Everyone from nurses, doctors, paramedics, porters, morgue technicians, receptionists to the hospital managerial staff are all trying to support their teams, each other and the patients.
The logo incorporates the Hospital's PRIDE colour palette, to ensure it held the same hospital values, and was recognisable to staff as an NNUH initiative.
"Many frontline staff are suffering anxiety and are struggling to cope, many are terrified of going into work every day. Many are concerned for their families and the risk of contracting the virus from their patients. What they are going through is overwhelming and traumatic, as they battle to save the lives of those suffering from Covid-19," says Dr. Richard Goodwin, NNUH Chief of Division, "They need to be able to talk to trained counsellors, and this service offers just that. I am delighted with our new brand identity – we really do appreciate JDO bringing their skills to bear for our staff."
"I am so proud and honoured to leverage the skills of our agency to design an identity for our NHS heroes", says Fiona Florence, JDO Managing Director. "Communication is critical for practical advice as well as emotional needs. CARING FOR YOU is a brilliant and much needed service, and it's hugely rewarding to know we've done our bit to help out."
Source: JDO Brand Design