JetBlue, New York's Hometown Airline®, is promoting its nonstop service between New York and London with an ad campaign by adam&eveNYC.
Launching this week, the campaign will bring the airline's transatlantic onboard experience to life through a combination of beautiful photography, typographic illustration and witty headlines supported by motion assets and a 15-second online video. The campaign will run in the US and UK for an initial six weeks, using OOH, digital and social.
JetBlue's arrival at both London Heathrow and London Gatwick airports last summer brought the U.S. airline's award-winning service across the pond, offering an exceptional experience and affordable fares that has redefined transatlantic travel.
The airline's newest campaign reminds travelers on either side of the Atlantic that there is a better way to fly between New York and London thanks to JetBlue's reimagined Mint premium experience – featuring individual and fully lie-flat private suites, and its industry-leading core product – featuring the most legroom in coach, a build-your-own dining concept with New York restaurant group Dig, unlimited free high-speed Wi-Fi and an extensive library of seatback entertainment.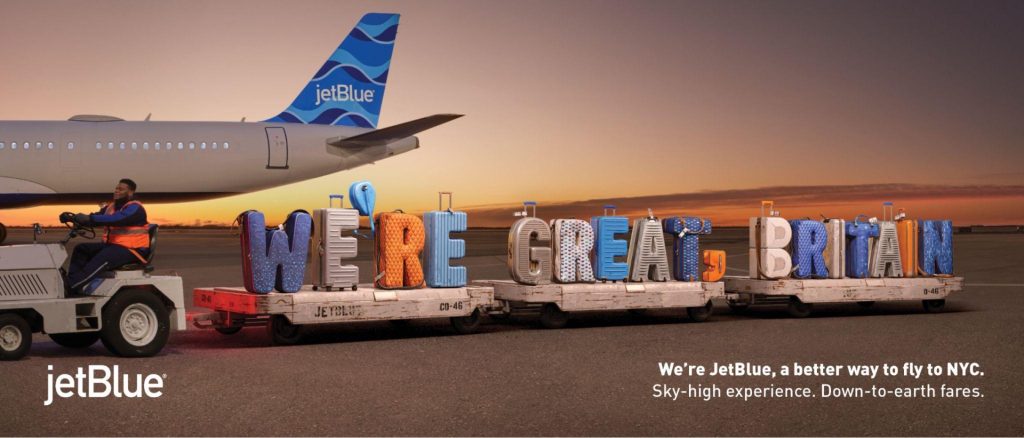 One execution shows suitcases on a baggage tug positioned as letters to spell out the slogan, "We're Great, Britain." Another uses typographic illustration to show the airline's spacious legroom in core, and a further execution shows the phrase "Full bars on the house" rising from the back of a seat to highlight JetBlue being the only airline to offer unlimited, high-speed Wi-Fi on all transatlantic flights. The fourth execution promotes the unique build-your-own meal concept from Dig. The photography was shot by award-winning artist Ben Stockley, while world-famous CG artist and designer Chris Labrooy created the original 3D type design and animation.
This is the first work by adam&eveNYC for JetBlue since the agency won the business last year and it is the brand's first advertising campaign in the UK market.
Jayne O'Brien, Head of Marketing, Product & Loyalty, said: "We have disrupted the domestic airline category here in the US for over 22 years with our award-winning service at a down-to-earth fares, and we're now incredibly excited to bring that same experience to travelers across the pond. We wanted to be authentic and witty, and it was really important that we introduced ourselves to the UK in this way with our new campaign."
Rachel Frederick, adam&eveDDB group creative director, said: "JetBlue is a disruptor brand with a great personality and amazing service. To advertise their new transatlantic service, we wanted to create a campaign that would stand out in the category and capture the true JetBlue experience. Working with Ben Stockley and Chris Labrooy, we created stunning visuals that show off the many offerings that make up their transatlantic experience, along with a huge dose of personality. With a combination of beautiful photography and 3D type, the headlines come alive within the plane."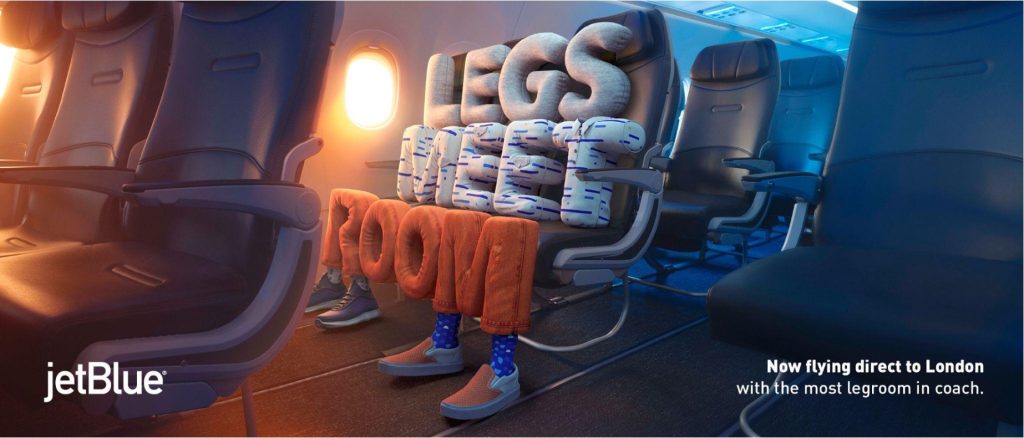 adam&eveNYC launched in 2017, with Samsung as a founding client. The agency has 70 staff and over fifteen clients including Miller High Life, Blue Moon, PepsiCo, MuscleMilk, Slack, TJ Maxx, Jim Beam, Facebook, PlayStation and BlackRock. 
CREDITS
Executive Creative Director Executive Creative Director Group Creative Director Creative Director/Writer Creative Director/Writer
Daniel Bonder David Brown Rachel Frederick Shannon Murphy Chris "Hank" Hanrahan
Sr. Art Director
Anthony Pasqualone
Senior Copywriter Copywriter
Monica Sagowitz Jess West
Head of Strategy
Strategy Director
Stuart Harrison
Henry Hayes
Managing Director
Group Account Director
Account Director
James Rowe
Elana King
Rob Jones
Social Director
Social Manager
Camille Lieurance
Krista Bedosky
Senior Designer
Kelsey Plantas
Senior Integrated Producer Executive Producer
Integrated Producer
Sion Prys Rob Marmor
Nereida Valles
Photographer
Ben Stockley
Director/ Production Co
Ben Stockley/TNC Productions
Producer
Gavin Lindsay (UK), Stuart Hart (US)
Editor
The Mill
Post Production
The Mill
Sound Design
Barking Owl
Typographer and 3D Artist
Chris Labrooy
MEDIA
Media planning/buying
Mediahub
 Source: adam&eveNYC