Kids of the world stage an intervention to protect Danish kids from skin cancer in the Danish Cancer Society and TrygFonden's charming new campaign, created by &Co NoA and directed by Peter Harton.
Following the Cannes Lions and Clio award-winning campaign, 'Help a Dane', which addressed Danes in general in 2017, this new campaign, 'Help a Small Dane', shifts its focus to tackling sun safety for Danish kids.
Last year alone, four out of 10 children in Denmark were sunburnt on holiday. Many Danes get as much UV radiation in a week in Mallorca as they do in almost half a year in Denmark and are at increased risk of skin cancer, including melanoma, in the long term.
This latest tongue-in-cheek campaign sees children from around the world taking action to help put an end to this issue. Set in Alcúdia, Mallorca (a popular holiday destination for sun-seeking Danes), the film sees local kid, Ramon, urging small Danes to protect themselves from the sun's rays so that they can stop being 'red and boring' and play with the other kids.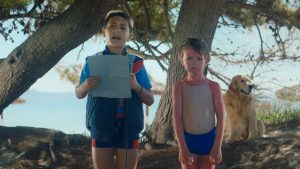 Director Peter Harton, who is represented by commercially by Great Guns, comments: "We wanted to use humour to get parents to take note of this embarrassing situation. The creatives at &Co NoA, Ole and Kristoffer, are good friends of mine, so we developed this collaboratively. Creatively, I think we achieved what we aimed for and it's a charming and fun slap in the face to parents in Denmark. We thought it would be fun to do an updated twist on the classic 50s TV-show, The Little Rascals, so we gave everybody in the gang a clearly defined role: the leader, the engineer, the musical one, the arty one, and the brainy one. Stylistically, we wanted to create a film that looked like it could have been made by these characters. Staying true to the material throughout the editing was quite challenging, because you usually cut away all the pauses in commercials. We initially tried this, but it lost a lot of its charm, so we actually ended up making it even slower than it had been originally."
Commenting on the shoot, Peter says: "Working with six kids and a dog was definitely the most challenging aspect of the shoot. The client is an NGO, so we didn't have piles of money to throw around. The crew was tiny and everyone worked in all departments. We were constantly way behind schedule and the shooting time restrictions with the kids didn't help – but it was a lot of fun. The leader of the gang, Ramon, had so much text and that was a challenge for him, but he was a genius to work with. I was so lucky – we did very few takes and all of the kids were great. Again, solid proof of that casting in king!"
Source: &Co NoA