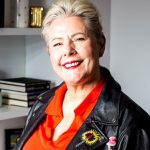 Following a year of rapid growth, including a multi-market expansion, global partnerships and bolstering its non-executive board, today leading influencer marketing service, TAKUMI, announces Mary Keane-Dawson's appointment as Group CEO.
Former non-executive board member Keane-Dawson will take the helm from the company's London headquarters. Her appointment supports the global management team as they execute on TAKUMI'S rapid growth plans. This following TAKUMI's expansion in 2019 into five new markets including France, Spain, Italy, Austria and Switzerland.
Globally recognised as a successful digital agency entrepreneur and business growth expert, Keane-Dawson has founded three agency businesses and held C-suite leadership roles at WPP, Steak Media (Denstu), Reform and Collective London. Most recently, she was a principal board member of Ogilvy & Mather Advertising and led its digital performance and paid social division, Neo@Ogilvy. Keane-Dawson was also named one of the most influential women in digital in 2019.
Keane-Dawson is an active speaker in the digital industries and has led international brand campaigns for Ford Motor Company, Nestle, American Express, Sage, IBM and Apple, among others. Her experience with established brands is hugely valuable and ushers in the next phase for TAKUMI, striking strategic partnerships on both sides of the Atlantic.
Commenting on the appointment, TAKUMI Co-Founder & Executive Chairman Mats Stigzelius says: "We are delighted to have such a creative and well-known digital media expert join the team. Mary is highly respected in the industry and her appointment reflects our plans to expand our global influencer offering. She brings a wealth of experience and expertise to the business, having worked in the sector for over 30 years.

"We want to sincerely thank Adam Williams for his contribution, and everything he has achieved and given to the company. In his time at TAKUMI, he has been instrumental in building the company and culture we have today.

"We are embarking on an exciting new chapter at TAKUMI, continuing our successful trajectory into 2020 and beyond, and Mary is perfectly positioned to spearhead our development."
TAKUMI Group CEO Mary Keane-Dawson says: "TAKUMI is an incredible company and I'm so delighted to be joining at this exciting time. Our immediate plan is to expand our North America operations with the support of our exceptional shareholder base and I'm extremely excited to be leading this global expansion."
Source: Takumi