The FIFA World Cup started out some 88 years ago and has since then been gluing millions of people all over the world to the screen every four years for weeks on end. The fans expectations, the global news coverage, the social betting, group watching and unending conversations surrounding the topic give the impression that during this period nothing else is going on in the world save two groups of 11 athletes fighting over a ball night in, night out.
So if everyone stops everything they're doing during the World Cup month, who we wondered would in their right mind get married during the Final – the absolute culmination and summum of weeks of anticipation?
It is with this in mind that the Samsung company and Leo Burnett Israel set out on a quest. Find the daring couple who'd get married during the World Cup Final. And find they did! Adi and Adir got married four years ago during the final of the 2014 World Cup.
As could be expected, things went awfully wrong: while many of the guests didn't even bother turning up (leaving the dance floor spotty with people at best), those who did were not focused on the young couple's exchange of vows but on their phones – trying their best to stay in the know despite the wedding. So Samsung decided to right this experience by doing two things:
Give World Cup Fans the absolutely best possible viewing experience
Give the young couple the wedding of their dreams – 4 years later – during the World Cup Final.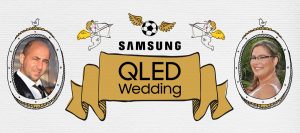 Sparing no expenses, Samsung dove head first into throwing the young couple a new wedding outfitted with Samsung's giant QLED screens, at the same place, with the same guest-list, a sumptuous meal, alternative Chuppah (the Jewish exchanging of vows ceremony) and of course the ideal conditions to watch the game, then party. A feat that was accomplished thanks to Samsung and the QLED screen's advanced technology which is bound to create a larger than life viewing experience.
While the first part of the campaign built up to the "World Cup Wedding" and was promoted via a social media and outdoor campaign, the second part will air after the World Cup Final, and boast interviews and footage of the event itself, young couple and their guests.
When asked to comment about the event, Ronen Salem Samsung Israel's Marketing VP said "It's no secret that during the World Cup brands are out to steal the show, we just wanted to find an activity that would be unique and meaningful – I think righting such an important life event as a wedding while allowing fans to enjoy an unforgettable viewing experience –  definitely subscribes to that."
 Source: Leo Burnett Israel