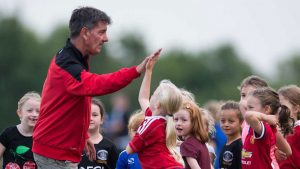 LIDA has been appointed by The Football Association to develop a new youth initiative, which is due to launch in January 2019.
LIDA will be working closely with The FA to create a strategic vision for a Digital Youth Reward and Recognition programme that seeks to inspire a lifelong journey in football and with The FA, amongst five‐ to 11‐year‐old children and their parents.
By identifying key audience drivers and building a platform that fosters participation, learning and development, the programme will create a highly personalised and rewarding engagement experience.
It ties in with The FA's Digital Engagement strategy to make it easier and more rewarding for people to get involved in the game no matter who they are and their background.
Russell James, Digital Engagement Director at The FA, said: "We're thrilled to have LIDA on board. They demonstrated unparalleled passion for the project, as well as the deep expertise needed to capture the hearts and minds of our youth audience."
Ben Golik, Chief Creative Officer at LIDA, said: "It's rare that we have the opportunity to apply our skills and experience to what is potentially a flagship initiative in the sporting world. Inclusivity and accessibility are already a focus for The FA and we're excited that we can help create an even wider base of fans and players among young people, developing a fantastic new generation of supporters."
Source: LIDA