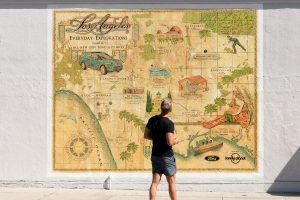 Leading travel media brand, Lonely Planet, and Ford Motor have joined forces to celebrate the debut of the all-new 2020 Ford Explorer.
In a three-month, multi-platform collaboration beginning late-October 2019, Lonely Planet will feature a series of custom travel content, created specifically for this partnership, across its online ecosystem and will also launch large-scale out-of-home experiential marketing activity in Atlanta, Brooklyn, Boston, LA and Manhattan.
The creative elements of promotional campaign will include:
Beautiful bespoke hand-painted maps featuring local highlights to appear as co-branded murals on the sides of buildings in Brooklyn, Boston, Manhattan, Atlanta and LA.
An accompanying custom travel video for each destination – featuring vehicle integration – getting travellers to the heart of these popular US hubs. These will be featured on a dedicated microsite, within custom travel articles on Lonely Planet's destination pages and on Lonely Planet's online video platform.
Lonely Planet travel influencers (Pathfinders) to visit one of the five US destinations each, undertaking a weekend takeover of their social accounts. In a 2020 Ford Explorer, each Pathfinder will explore one of the destinations in comfort and style, starting at the mural and exploring its featured highlights and the surrounding areas.
 Extensive social activity across Lonely Planet's Facebook, Instagram and YouTube channels
This venture reflects Lonely Planet's plan to diversify under the new strategic direction of recently-appointed CEO, Luis Cabrera.
Lonely Planet is making great strides in its ambitions to maximize adjacent business opportunities and deliver its travel expertise beyond guidebooks as evidenced by the recent acquisitions of TRILL Travel and ArrivalGuides.
As one of the best-known brands in the travel industry, this latest collaboration showcases the strength of Lonely Planet as a multi-channel platform which can be leveraged by advertisers to connect with audiences in a purposeful way.   
Each element of the partnership will maintain the travel expertise and editorial independence of Lonely Planet, while harmoniously integrating the 2020 Ford Explorer into the content. The partnership will allow Ford to reach Lonely Planet's extensive, dedicated global audience through custom-created, editorially led content which is both authentic and meaningful for travellers.
Lonely Planet's VP of Experience, Tom Hall, said: "We are thrilled to be working with Ford on this exciting partnership. This highly collaborative and fully integrated range of activities has been created with the traveller in mind, allowing us to showcase the 2020 Ford Explorer harmoniously in our content, and in a way that will  resonate with Lonely Planet's audiences. Our highly tactical, custom, yet editorially independent approach to commercial partnerships – where we continue to create the best content for travellers – has been developed to benefit both consumer and client. We're looking forward to getting people to the heart of these five US metropolises with Lonely Planet and Ford."
Lee Newcombe, Ford's Explorer Brand Marketing Manager, said: "Travel and discovery are essential to our connection to one another, and we're excited to partner with Lonely Planet to not only inspire our customers to get out there, but to enjoy the journey in the all-new 2020 Ford Explorer."
Source: Lonely Planet