Lake Erie Shores & Islands and creative agency Marcus Thomas, have created a new campaign titled "Start Coasting," to promote tourism to the vacation region.
Each spot focuses on a singular, peaceful moment, and concludes with drone footage to provide a bird's-eye view of the region, emphasising that an authentic coastal experience awaits, perhaps somewhat unexpectedly, in Ohio.
The ads, which will run across connected TV, pre-roll, digital display, rich media display and social channels, tap into the mindset of "coasting," or taking a break from jam-packed workdays, newsfeeds and DVRs, and fully experiencing the magic of the Shores & Islands.
The campaign represents the first time the destination will use a digital-only, highly-targeted campaign approach, instead of the traditional focus on broadcast television and outdoor advertising.
The spots will specifically target friends, couples and families, with "coasting" taking on different meanings to best resonate with each group – whether that be parents trying to slow down and enjoy time with their families, or millennials looking to unwind and unplug with friends.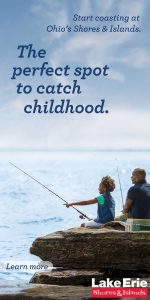 Through retargeting, audiences throughout Cleveland, Columbus, Detroit, Cincinnati and Toledo will see more ads featuring additional relevant experiences and lodging options to help them easily plan and book their stay.
In addition to the spots, which launch in April in anticipation of peak travel season, a unique influencer marketing strategy will become part of the campaign in June.
Credits:
Client: Lake Erie Shores & Islands
Agency: Marcus Thomas
Executive Creative Director: Jamie Venorsky
Creative Director: Stephanie Burris
Art Directors: Brian Gillen, Brian Roach
Copywriter: Kevin Delsanter
Producer: Chris Terrell
Digital Producer: Cody Nash
Production Company: Think Media Studios
Director: Geoff Yaw
Photographer: Tom Cwenar
Source: Marcus Thomas