MatchFit and Bloomsbury Football have announced a new strategic partnership which will see the sports PR and sponsorship agency offer their expertise to the grassroots football charity as they seek to improve the lives of thousands of young people in London through the power of football.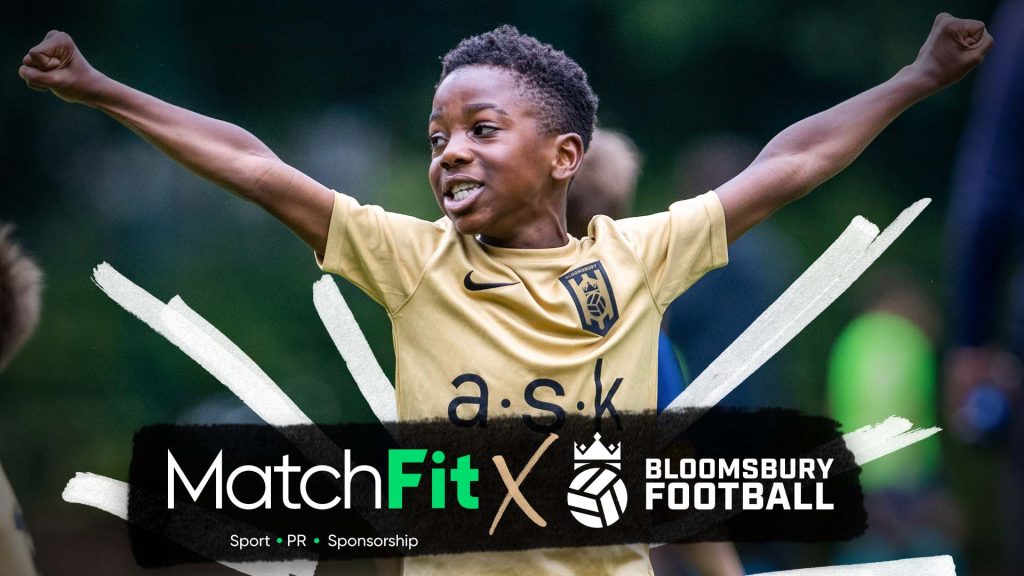 Founded in 2018, Bloomsbury Football has evolved into one of the most inspiring sporting charities in the United Kingdom, using football to impact the lives of more than 5,000 young people each week. Tackling social division within the capital, Bloomsbury Football ensures that all 18-month to 18-year-olds across eight London boroughs can experience and benefit from the life-changing power of the beautiful game thanks to a unique financial assistance model which means no child will be turned away.
The organisation is based on three pillars: that access to regular high-quality football training improves mental and physical health, builds stronger communities, and teaches young people valuable life skills.
As part of the relationship, MatchFit will make Bloomsbury Football their official charity partner, and will see the agency provide support on strategic communications and campaign PR activation for the London-based charity. Each MatchFit member of staff will have dedicated monthly resource on a pro-bono basis. The community will also have access to work experience and internship opportunities at MatchFit, providing a pathway for talent from diverse backgrounds to enter the sports PR and sponsorship industry.
Charlie Hyman, Founder and CEO of Bloomsbury Football said;
"It's amazing to have MatchFit recognise and support the impact that we are having as a grassroots football charity in London. Bloomsbury Football was founded 4 years ago, and we are constantly developing the ways in which we can engage as many young people as possible and maximise our impact through football. We are excited to work with the MatchFit team to develop our capacity and change the game for more young people in London"
Donald Parish, Co-Founder of MatchFit, said;
"At MatchFit we are guided by a simple mission; we want everyone in the world to love sport as much as we do. We know the life-changing benefits it can offer, so it is heart-breaking that many young people simply don't have access to sport for all manner of social and economic reasons.
That's why we've been blown away by the impact that Bloomsbury Football has been able to make across London over the past four years. Their values align perfectly with our own, and we are incredibly excited that MatchFit will now be playing a part in helping Charlie Hyman and the Bloomsbury Football team continue their mission."
The news comes at an exciting time of growth for sports PR and sponsorship specialists MatchFit, who now add Bloomsbury Football as pro-bono clients to a roster which includes stellar partners such as The FA, LiveScore, The Lionesses, Marks and Spencer, The EFL, FOOTY.com and one of the world's leading football clubs.
Recently, MatchFit won 'Breakthrough Agency of the Year' at the prestigious UK Sponsorship Awards 2022. It also won Agency of the Year – 'Silver' at The Football Business Awards and was shortlisted as 'Young Agency of the Year' at this year's Sport Industry Awards. It is currently shortlisted in the 'Agency of the Year' category at the Sports Business Awards.
Source: MatchFit