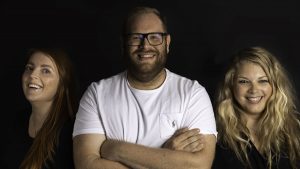 The independent digital agency, CULT has announced its appointment of Matt Watson as Executive Creative Director. Previously, a creative director at Digitas UK and SapientNitro.
Since Cat Turner and Bridey Lipscombe opened its doors in 2012, CULT has seen exceptional growth, attracting brands such as Barbour, Agent Provocateur, Farfetch, Royal Salute, Sally Hansen and Marc Jacobs, leading campaigns for big female talent, such as Katy Perry, Beyoncé, Lady Gaga and Sarah Jessica Parker, and in 2018, winning clients such as Amazon Fashion, NBC Universal, UMBRO and Netflix.
Bridey Lipscombe, Chief Strategy Officer and Founder of CULT said "Cult reaches its sixth birthday later this year. We always knew that we had a unique offering, but our journey has far surpassed our expectations. As we enter into another year of business, it seems only fitting that we ramp up our creative offering… Matt joins as a powerhouse alongside Cat and I in growing the business".
Based out of CULT's London office, Watson will be leading the creative team, ensuring all work is ever-evolving and insight-led; working in partnership with clients to deliver brave campaigns that build brands with every interaction.
Cat Turner, Chief Creative Officer and Founder of CULT said "As a creative agency that always punches above its' weight, we're delighted to have Matt join as our ECD, taking us a level up. His smart, no bullshit approach fits perfectly with our agency culture, and his creative thinking is progressive, meaning we'll continue to grow our offering and work excellence."
Watson said of his appointment "CULT has been on a phenomenal journey so far with some of the best brands out there. The work they've created has been game-changing, for their clients and for our industry. This coupled with their ambition to become much more than a traditional agency is what drew me to them."
He added "Bridey, Cat and I feel passionately about transforming the ways in which CULT's brands engage with their audience. Our fearless approach to solving client's business problems sets us apart from the rest. It's going to be hard work, but a lot of fun. I'm very excited to be part of this next chapter in CULT's adventure."
Watson's appointment is effective immediately.
Source: CULT