Monster, the online jobs service, is launching a new pan-European campaign introducing a formidable new character to reinvigorate the brand.
The pan-European campaign is the first work by mcgarrybowen for Monster since being appointed to the business at the end of February this year.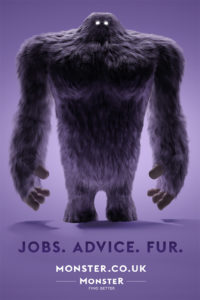 The campaign literally brings Monster to life, as a giant monster – essentially a big, mean, job-getting machine. It targets a new generation of Millennial job seekers, a generation brimming with ambition, but coming up against the harsh realities of the job market. The campaign aims to reassure Millennial job seekers that, with the power of Monster behind them, nothing can stand in the way of that dream job.
The first phase will be unveiled this week in the UK, Germany, France, and Luxembourg, with rollout continuing throughout the year.
The campaign will run initially in large outdoor formats. In the UK, "Monster" will take over the Waterloo IMAX and the Waterloo Motion digital OOH, as well as full bus wraps around the capital.
As well as outdoor ads in the four launch markets, the campaign will include online and digital display ads, and radio ads launching on Monday, May 16th in the UK and Germany. It will also include a TV sponsorship campaign in France in June.
Paul Jordan, Executive Creative Director at mcgarrybowen, said: "Monster used to be famous for producing some of the best creative in the world. So at mcgarrybowen we have woken the sleeping giant in order that Monster can wreak havoc in the world once more."
Andrew Warner, Vice President Marketing, Europe at Monster, said: "There's a big job to be done and we needed a campaign that would ensure Monster is the number one destination when it comes to finding the right job or the right candidate. Bringing Monster to life literally, provides us with a great creative canvas to get that message across."