Traditional holiday marketing campaigns have concentrated for years on competitive messages designed to sway buyers toward their products and services. But in 2015, Microsoft has taken a different approach.
On November 16, 2015 a group of 37 Microsoft Employees from around the country gathered in New York City at the company's new flagship store with the intent to sing a song of peace to the world. New to NYC, they took a walk in the neighborhood and sang it in front of the Apple flagship store on 5th Avenue.
The Microsoft chorus was chosen from hundreds of auditions from around the country. These Microsoft team members – along with members of a Harlem youth choir – assembled at sunset on the plaza outside the Apple store and surprised a large crowd of shoppers, tourists and passers-by with a beautiful rendition of Jill Jackson Miller's iconic song, "Let There Be Peace On Earth."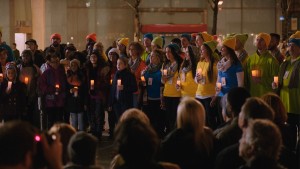 Several Apple employees joined the Microsoft team in a celebration of unity and good cheer at the song's conclusion. It was a fitting welcome to the neighborhood by Apple and a warm celebration to begin the holiday season.
The song's message of hope and empowerment resonated strongly with the participants and crowd alike during this particularly emotional time of year.
The performance and celebration was filmed and will be made into a television commercial in the USA as well as be distributed through Microsoft's social and digital media channels and will play throughout the holiday season.
Joel Simon Music arranged the song, Doug Katsaros was the musical director and conducted the choir. Erich Joiner directed the filming and m:united//McCann was the creative agency involved.