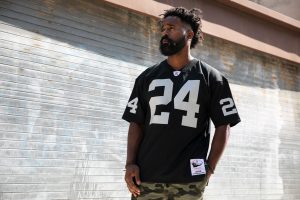 Mitchell & Ness announced it has signed a new international partnership with the National Football League (NFL). The deal starts from the 2018 season and is in addition to the brands existing license agreements with The National Basketball Association (NBA) and MLS (Major League Soccer).
The NFL license agreement runs for two years across Europe and includes rights to a wide range of retired player identified apparel.
Mitchell & Ness is successfully aiming to build a portfolio of licenses that enables it to reach its differing audiences.
Mitchell & Ness EMEA General Manager Mike East said: "We're really excited to be able to announce this new license agreements with the NFL and to bring our innovation and creativity to them as a partner. We believe in working closely with people and the NFL, like our existing relationships with the NBA and MLS, align with our brand beliefs. Our authenticity as a brand and messaging lends itself to the new agreements and we're looking forward to unveiling what this looks like in the coming weeks, particularly as London plays host to three NFL regular season games at Wembley Stadium this month."
"We are excited to be working with Mitchell and Ness again here in the local market, and building on their long-standing, and strong partnership with the League in the US," said Sarah Bohner, Head of Consumer Products at NFL.
Source: Mitchell & Ness