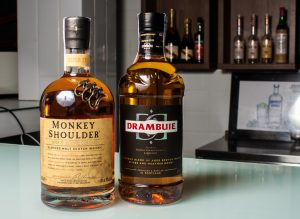 William Grant & Sons has extended the global remit of creative agency Space to include its Monkey Shoulder and Drambuie brands.
London-based agency, Space, which already works with William Grant & Sons on its Glenfiddich brand, the World's Most Awarded Single Malt Scotch Whisky, has been handed creative duties on Monkey Shoulder, its iconic blended malt scotch, as it looks to capitalise upon the brand's global popularity as the malt whisky made for mixing. The agency has been tasked with bringing to life the brand platform, "Make it Monkey", with digital and social content and on-trade toolkits for use in local markets.
For Drambuie, the whisky liqueur acquired by William Grant & Sons in 2014, the agency has been briefed to make the drink more relevant to a younger audience. Capitalising upon growing cocktail culture, its work will focus upon the versatility of the Drambuie liquid and promote its signature serve, the Drambuie Collins. A series of digital and social initiatives will be rolled out across key European markets.
Matthew Hawes, Global Brand Director at William Grant & Sons, commented: "We have carefully grown Monkey Shoulder over a number of years and are now looking to establish the brand in more markets around the world. And, on Drambuie, we see huge opportunity in driving reappraisal amongst a younger, cocktail drinking audience. We are delighted to be working with Space and look forward to their continued support as we develop these brands for the future."
Jason Nicholas, Managing Partner at Space, added: "It is a great honour and privilege to be awarded creative duties for these two iconic drinks brands. We look forward to working with the William Grant & Sons global marketing teams in creating distinctive and disruptive communications that will resonate with drinkers worldwide."
The Monkey Shoulder and Drambuie appointments extend the relationship that already exists between William Grant & Sons and Space.
The agency was responsible for creating a global TV ad in October 2016 to launch the Glenfiddich Experimental Series, a range of new and innovative whisky experiences, which has contributed to Glenfiddich extending its global leadership of the single malt whisky category.
Space has also been responsible for creating a virtual reality distillery tour for Glenfiddich, entitled "Journey into the Mind of the Malt Master", which has already been activated in more than 70 international markets.
Source: Space