Moonpig's new TV campaign shows how its giant Valentine's cards are the best way to tell someone how much you love them.
The TV campaign, created by Quiet Storm, shows a young man on a bus holding a huge and rather cumbersome pink heart. When he gets to his girlfriend's house, we see the heart is in fact a large Moonpig Valentine's Day card – a metaphor for the giant-sized love he has for his girlfriend.
The "Love Bigger' campaign runs from January 31st.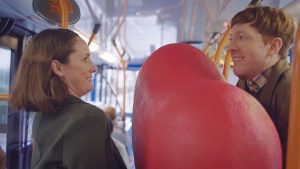 Gemma Dowler, Art Director at Moonpig said: "At Moonpig we believe that love is our greatest natural resource. Seb and Robyn at Quiet Storm devised this giant heart visual metaphor – kind of like wearing your heart on your sleeve. Showing that it's always ok to be proud of showing your love in a big way."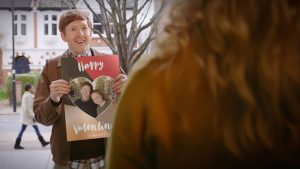 Trevor Robinson, Executive Creative Director of Quiet Storm said: "With the brief of selling Moonpig's unique, giant cards we are pleased to have created something emotionally heart-warming for the brand. The simplicity of the idea leaves everybody here smiling and we're sure it will do the same for our audience."
Source: Quiet Storm