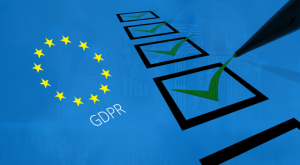 According to the latest research commissioned by Ecrebo, the point of sale marketing specialist, 57% of retailers say they aren't ready for GDPR, while 41% are ready for the compliance deadline. With personalisation playing such a key role in retail — 89% of retailers say they use data to personalise the customer experience — the pressure is on to comply.
The research, conducted by independent survey firm Opinium, polled 101 UK retail decision-makers to gauge their views on the loyalty landscape, customer attitudes and the influence of external market factors.
The research also uncovered that despite the appetite for using personalisation, retailers still experienced challenges around implementing the strategy within their organisations. Less than one quarter of respondents said they were successful in delivering personalised offers, with technology and data cited as the main barriers.
"Retailers are striving to remain relevant and competitive as they try to keep up with their customers, who are becoming more demanding about what they want in-store, particularly around personalised offers. Our consumer research, which we ran in parallel with the retailer research, supports this view with almost three quarters of consumers saying personalised offers keep them loyal. However, if retailers don't have the technology in place to support them, that could present a problem both in the short and longer term," says David Buckingham, CEO of Ecrebo.
The report also discovered the perceived impact retailers felt Brexit would have on their business, such as increased price of imported goods, complications in operating internationally and future uncertainty. We also questioned them on their desire to implement new technology. Respondents cited increased use of mobile payments, augmented/virtual reality and artificial intelligence as some of the technologies they wanted to implement within the next 12 months.​
"In addition to changing consumer demand, the retail industry is also shaped by intense competition and external forces, including regulations and political shifts, like Brexit, in addition to advances in technology. With that in mind, retailers have their work cut out for them in the race for market share against their online counterparts. Importantly, loyalty schemes and the ability to personalise offers will be a key tool and will have a major role to play going forward, as will the technology that facilitates them," Buckingham concludes.
For the full findings of the research, download the report: Ecrebo Retail Reality Report.
Source: Ecrebo