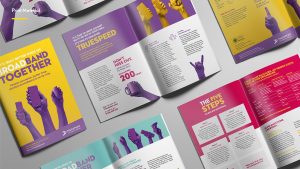 Mr B & Friends have completed work on a new brand identity and website for fast-growing regional broadband provider Truespeed.
Based in the South West, Truespeed has charted an impressive course since 2016 having celebrated connecting its 2000th household earlier this year. The company provides full fibre connections to rural premises – 12 per cent of which still don't have a 'decent' (i.e 10Mpbs) broadband connection. By running the fibre-optic cable directly into the property Truespeed can provide consistent and unrivalled speeds.
Mr B & Friends were appointed to develop the Truespeed brand by demystifying the technology and helping people to understand that fast, reliable broadband is a right not a privilege.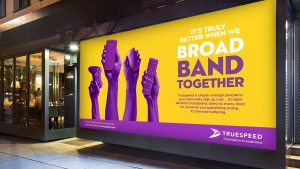 The creative approach was inspired by Truespeed's community-based model, which requires a percentage of the community to sign up in order to be installed in an area. The internet services provider assists communities by reinvesting profits into local areas and installing free ultra-fast broadband to local schools and community hubs, as well as supporting events and organisations integral to the places it serves.
The identity developed by the agency pulls on the 'when you broadband together' idea combined with visuals of hands holding internet-enabled devices aloft, the result being a rallying call to communities to adopt Truespeed.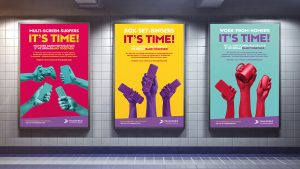 The new identity uses bright, bold colours which set it apart from other brands within the category. It has been applied across the full suite of sales and marketing materials while the redesigned website displays the product options with straightforward explanations and an easy to navigate interface.
Steve Richardson, Executive Creative Director at Mr B & Friends, says, "Community engagement is very much at the heart of Truespeed's proposition so it was important that this was brought to the fore of the brand. The new brand not only engages the community, but actually creates its own community."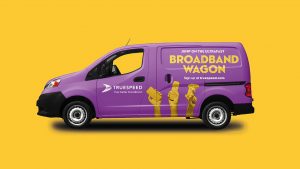 Bartholomew Day, Director of Marketing at Truespeed says, "The brand that we had was disjointed, customers found it confusing and didn't truly reflect who we are as a company. We wanted to create a brand that people would really want to get behind. What Mr B & Friends have developed is really exciting and will help us to capitalise on the momentum that we're seeing as the company continues to grow."
The new brand and website are now live across the region.
Source: Mr B & Friends