To mark the National Down Syndrome Society's (NDSS) 40th anniversary, the organisation has partnered with Saatchi & Saatchi New York to challenge the limitations imposed on people with Down syndrome.
This digital and social campaign furthers the conversation following last year's noteworthy Law Syndrome launch, which propelled legislation to reform the complex and misguided laws that hinder the Down syndrome community. This iteration of the campaign builds on this concept by focusing on the accomplishments of those with Down syndrome and how they have defied society's expectations.
The video, which will be shared across YouTube, Facebook and Instagram, introduces the audience to a doctor telling a parent that their child has Down syndrome and describing the limitations associated with the diagnosis.
The points made by the doctor are restrictions that the self-advocates featured in the video have likely heard about themselves from society, but instead of accepting them, the video showcases the individuals using them as fuel to not only meet their goals, but exceed them.
The individuals with Down syndrome featured in the video have made remarkable accomplishments. Collette Divitto owns a baking business, Anna Rose Rubright earned her college degree, Louis Dilauri has outlived the average life expectancy, John Tucker starred on an Emmy-winning TV show, Adrian Forsythe is a Lobbyist on Capitol Hill, Jon Stoklosa is a successful Powerlifter and Nicole Figueroa has been in a relationship with Jeffery Resnick for over 14 years.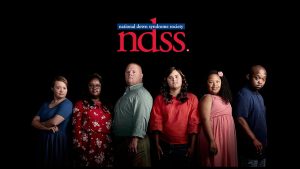 The incredible talent for the video was chosen from NDSS's large network of self-advocates with diverse backgrounds and unique stories.
Through this work, Saatchi & Saatchi and NDSS aim to build further awareness for the cause and share an empowering message for the community, which highlights the accomplishments of NDSS's self-advocates and propels momentum for the future.
NDSS hope this encourages individuals within and outside of the community to raise awareness for the cause through word of mouth and donations at lawsyndrome.org.  
"Working with NDSS, and building campaigns that drive positive societal change continues to be one of the most rewarding experiences that our team has had professionally. Day in and day out, individuals with Down syndrome disprove any negative, preconceived notions of their diagnosis and demonstrate why the laws stacked against them are so wholly unfair," said Andrea Diquez, CEO at Saatchi NY. "We hope  -this video sends an empowering message to our society and furthers the conversation around Law Syndrome."
"Down Syndrome does not hold individuals with Down syndrome back – it's a series of antiquated laws created by those who had outdated perceptions of those with disabilities," said Kandi Pickard, Senior Vice President of Philanthropy, Outreach and Events at The National Down Syndrome Society. "Our desire is for this 40th Anniversary video to show society that individuals with Down syndrome want the American dream and that their determination will surpass any limitation put in their path." 
Source: Saatchi & Saatchi New York