National Geographic and WeWork announced a marketing partnership to bring experiences and events for the network's new limited series Valley of the Boom into the workplace.
Beginning December 3, select WeWork locations in New York, Los Angeles and San Francisco will be transported back in time to the early days of the tech boom, when a new industry was born from the most unlikely of people and places.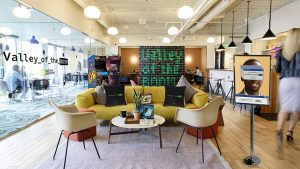 In addition to fun and interactive activities that harken back to that era, the takeovers will also include practical career development opportunities to help members take their networking and business development skills to the next level.
For one day at four WeWork locations in each market, members will walk into a "Valley of the Boom Internet Café," a workspace that's been transported back to the 1990s. Each space will feature activations that are not just fun but also provide practical tools for the next generation of entrepreneurs. Elements include the following:
On-site consultations with LinkedIn experts to optimise a person's visibility on the platform
Professional headshots
Authentic 1990s desktop computer stations featuring classic games such as "Oregon Trail," "Doom" and "Tetris"
Social vending machines that dispense 1990s candy, toys and trading cards in response to tweets and Instagram posts that use the hashtag #ValleyOfTheBoom
Branding takeovers in common areas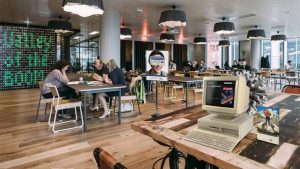 In addition to these takeovers, in January WeWork will host exclusive screenings of the first two episodes of the series, followed by curated discussions with series talent and experts.
"WeWork is a modernised version of the infamous '90s startup garage," said Jill Cress, chief marketing and communications officer of National Geographic Partners. "This partnership allows us to bring a little of the Valley of the Boom disruptive energy directly to consumers, many of whom are using WeWork as the first home for their budding businesses."
"Companies of all sizes and industries come together at WeWork locations around the world to pursue their life's work, drink good coffee and thrive. Partnering with best-in-class brands like National Geographic helps us bring them unique content and experiences they can't enjoy anyplace else," said Laura Brounstein, vice president of campaigns and content for WeWork.
The Valley of the Boom Internet Cafes will take place from 9 a.m. to 6 p.m. at the following WeWork locations:
New York

Times Square (Dec. 3)
Grand Central (Dec. 4)
SoHo West (Dec. 5)
7th Avenue (Dec. 6)

Los Angeles

Vine (Dec. 3)
Burbank (Dec. 4)
Pacific Design Center (Dec. 5)
Playa (Dec. 6)

San Francisco

Transbay (Dec. 3)
Embarcadero (Dec. 4)
600 California (Dec. 5)
Valley Towers (Dec. 6)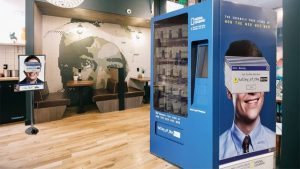 The National Geographic and WeWork partnership was executed in collaboration with BCXP, the experiential arm of Berlin Cameron.
Using a blend of narrative devices and interviews with the real subjects and experts woven into scripted drama, Valley of the Boom, from showrunner, creator, director and executive producer Matthew Carnahan ("House of Lies"), charts the meteoric rise and cataclysmic burst of the dot-com bubble. The six-part limited series will premiere Sunday, Jan. 13, at 9/8c on National Geographic. From STX Entertainment, Valley of the Boom is also executive produced by Arianna Huffington.
The series stars an ensemble cast led by two-time Emmy award-winning actor Bradley Whitford ("Get Out," "The Post," "The West Wing"), Steve Zahn ("War of the Planet of the Apes," "Dallas Buyers Club") and Lamorne Morris ("Game Night," "New Girl").
The documentary-style interviews that support the drama include experts from the era — such as Mark Cuban, Dan Goodin and Huffington — as well as prominent tech figures from the companies featured in the series — such as former President and CEO of Netscape Communications Corporation James Barksdale, Netscape founder Jim Clark and co-founders of TheGlobe.com Stephan Paternot and Todd Krizelman.
Source:Â National Geographic