Santander Bank have unveiled their new campaign in the US, created by global creative agency Arnold Worldwide.
Building on their 'Respect Adds Up' platform, which includes 'Run Around' and 'Goose,' with two new spots, 'Pony' and 'Butter,' these spots are rooted in findings that people are complacent with their banks because they actually expect to be slighted.
"Banking with Santander is different for all the right reasons, as the experience is built on the right solutions that cultivate respectful relationships with your banking provider. Santander wholeheartedly stands by its 'Don't put up with anything less – you deserve better" statement by showing the simple ways that a positive experience with a bank has the ability to shake people out of their banking inertia," said the bank in their release.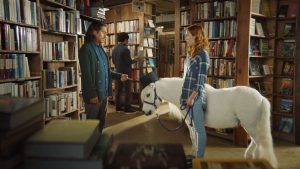 'Pony' and 'Butter' continue the theme of flipping well-known idioms to get a laugh from the audience. Using humour as a message driver, Arnold and Santander honed in on key concerns consumers have with banks and redirected the narrative to positively highlight qualities that make Santander unique.
Barbara Glasser, CMO, Santander US said: "At Santander bank, our customer promise is to treat people and their money the way we all want to be treated – with respect. For this newest iteration of 'Respect Adds Up,' we continued using everyday idioms to highlight that respect is the foundation of a positive banking experience, one that we're not only familiar with, but also genuinely dedicated to. At Santander, our unique combination of solutions and our ethos ladder up to this message."
Icaro Doria, CCO, Arnold Worldwide added: "We live in an environment where consumers have unfortunately been made to feel somewhat insignificant by storied financial institutions, and as a result are wary of many large banks. The respect adds up narrative that we've brought to life solidifies Santander as a reliable and trusted partner within the larger lexicon of banking in our markets."
The :15 and :30 spots will begin running in Oct and Nov and will also live on digital and social.
Source: Arnold Worldwide