Independent creative agency St Luke's has launched a marketing campaign for UK consumer champion Which? warning consumers of personal and financial scams.  A series of striking characters will launch on social and digital media, print and out of home (OOH) from 22 March 2021.
In this new marketing campaign, the creative agency sought to engage people with characters in static and animated formats. Which? has identified the top three scams that catch people out, and St Luke's has turned them into memorable caricatures: Identity Thief, Bank Impersonator and Savings Swindler as a reminder to be vigilant. The creative shows the scammers trying to cover up the message.
Scams are a major issue in the UK, with £1.7 billion lost in the last 12 months (Source: Action Fraud, Feb 2021). Traditionally these types of marketing campaigns warning people of scams are designed to be frightening; however, this tone can be off-putting and stops people from listening to the message as they avoid bad news.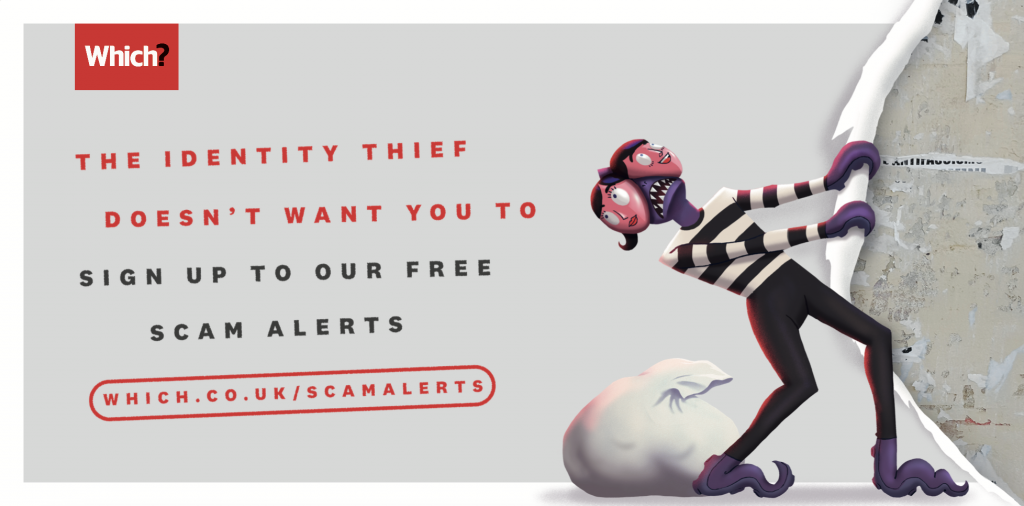 Neil Caldicott, Brand Director Which? says: "Which? research shows the devastating financial and emotional impact scams can have. As the scammers become increasingly sophisticated and harder to spot, anyone can be caught out – not just those we might consider most vulnerable. As the UK's consumer champion, Which?'s free scam alert service will give people more confidence to spot the latest scams, and know how to avoid them."  
The free service from Which? is designed to help people stay one step ahead of the scammers, rather than make them more anxious. The Which? email alert service (which.co.uk/scamalerts) will update people with any new scams as they are discovered, to raise awareness and help them identify complex scams. 
Richard Denney, Executive Creative Director at St. Luke's, says: "Far too many people are being tricked by all sorts of nasty scammers, the good news is Which? has all the information to help us stay one step ahead and we have the work, with the added firepower of Smith & Foulkes to get the message out there and arm people with a better understanding of scams. Scammers will not want to see this."
St. Luke's devised the creative idea, which was produced by Nexus Studios' BAFTA-winning, directing duo Smith & Foulkes (Alan Smith and Adam Foulkes) who were responsible for the Cannes Grand Prix winning spot Honda 'Grrr'. 
Smith & Foulkes add: "Our characters had to be clearly portrayed as devious villains, but they also had to be relatable. They may cowardly hide behind fake online personas, but these are real humans who engage in such nefarious practices, and it was important to demystify their actions." 
As the campaign breaks on 22 March, a real-time visualisation will start to appear on a wall at 500 Brixton Road, three minutes from Brixton tube and rail stations, a location which is home to a vibrant and busy community. St. Luke's worked with Global Street Art to paint a mural in five days with the headline "£23 million will be lost before this mural is painted. That's holidays, homes, entire life-savings – stolen".  Once current pandemic restrictions are lifted, the location usually sees 2.6 million pedestrians passing by per month and nearly 880 thousand vehicles. 
Source: St Luke's