One of the UK's favourite cider, Strongbow, is launching a new master brand campaign that celebrates people from all walks of life coming together in the great British pub.
Two friends passionately perform the 80s classic 'Together in Electric Dreams', and the powerful one minute spot builds to a spine-tingling crescendo as the locals all join in with the pub band's rendition of the classic tune.
Set in the North of England, the pub's real life locals star in the advert singing along to local heroes Chris Kinley on guitar and Rob Waters on piano –who tour the pub circuit of the North East.
"Strongbow has always been famous for its iconic advertising reflecting the brand's strong roots in the Great British pub. To remind people of all those great times in pubs, we have called upon actual local music heroes who are masters in creating an electric atmosphere that brings everyone together," says Emma Sherwood-Smith, cider director at HEINEKEN.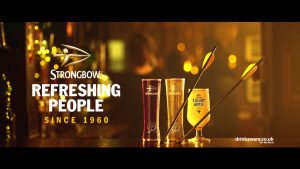 "This is the first in a series of adverts where we'll see local heroes celebrated.  We're going to be sharing positive, inspirational stories of the unsung heroes who make the Great British Pub so special. These are the people who bring us all together in pubs up and down the country, over a pint of Strongbow and make us feel united and proud. More importantly, we are going to bring this to life in pubs across the country.  Over the next few months, we'll host a series of 'Strongbow Nights' that will see our local heroes perform in pubs across the UK."
For the first time, the campaign features all three Strongbow ciders – Original, the biggest cider in the UK; Strongbow Dark Fruit, launched just five years ago and already a cultural phenomenon and second biggest cider in the UK; and Strongbow Cloudy Apple – the premium, crisp and sweeter cider of the family.
The ad ends with the familiar sound the Strongbow arrows hitting the bar. Sherwood-Smith continues: "A truly iconic sounds that has made people feel thirsty for decades.''
The advert was created by Strongbow's new creative agency OTHERWAY, and will be launching on 1 April on TV, VOD and social.
Source: HEINEKEN