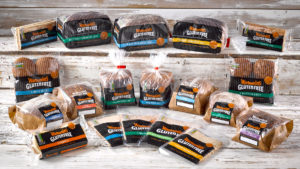 Warburtons, the UK's largest bakery brand, has announced it is rebranding its Newburn Bakehouse Free From range to Warburtons Gluten Free in January 2018.
The range, which first launched in 2011, has continued to grow as demand for free from options expands. There remains a blend of those consumers who have to buy free from due to specific dietary needs, and those choosing free from products for broader lifestyle reasons. The range now includes 19 gluten free, wheat free and milk free products, providing fresh bakery options for free from customers. Products include a selection of artisanal bread, wraps, sandwich thins, farmhouse and smaller 300g loaves and crumpets.
Sales of free from goods are expected to reach £673 million by 2020. Aligning the range more closely with the Warburtons master brand will ensure it is more easily recognisable as baked by the UK's second largest grocery brand and number one wrapped bakery brand. Crucially, the new brand identity will also include clearer gluten free labelling so customers can quickly spot the right product for their needs.
The newly branded products will be on the shelves in all stores from 15th January 2018. Following five years as a sub-brand with subtle references to Warburtons, the range will be fully brought into the family, carrying the iconic Warburtons logo and easily identifiable premium black and orange packaging with a clear gluten free message. The range will continue to include a selection of gluten free, wheat free and milk free bread, wraps, sandwich thins and crumpets, but will no longer reference Newburn Bakehouse on-pack.
Jonathan Warburton, Chairman, Warburtons said: "Mainstream brands have been the key drivers of incremental growth in free from in recent years. As the nation's favourite baker, we believe that if you follow a gluten free diet, you should still be able to enjoy the taste and quality you'd expect from Warburtons, which is why we first launched our range nearly seven years ago. But the free from aisle can be difficult to navigate, so we're rebranding to Warburtons Gluten Free to ensure customers can easily identify our products."
Chris Hook, Free From Director, Warburtons said: "Extensive customer testing shows that the clarity and simplicity of the Warburtons Gluten Free brand is preferred amongst both those with specific dietary needs and those choosing to eat gluten free for lifestyle reasons. That's why our new brand identity is bold and distinctive, carrying a clear gluten free message and the iconic Warburtons logo."
Source: Warburtons