[KGVID width="600″ height="338″]https://marcommnews.com/wp-content/uploads/2016/03/DOUBLE-FINAL.mp4[/KGVID]
Nivea Men has launched a comical new global ad for Nivea Men Crème exploring what a man would do if he met his double – a person who is exactly like him, but just a little better at everything.
The online and social media campaign, created by Stack, is inspired by the theme of Dostoevsky's classic novel The Double, which was recently adapted for the big screen.
"The Double" online film is targeting men aged 18 to 30, who are prolific users of social media, but not moisturiser.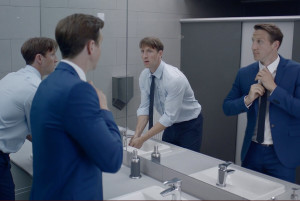 The idea behind it that when you moisturise you just feel better, and when you feel better you're likely to be more confident and outgoing, which often results in life working out well.
The film launched globally on YouTube and Facebook on February 18th. Viewers can purchase Nivea Men Crème directly through the video with a click. The film is supported by a social media campaign encouraging men who don't use moisturiser to start thinking about life's possibilities if they unleashed their double, using the hashtag #feelthedifference.
Matt Marlowe, Beiersdorf's Head of Digital, said: "The Double tells guys a simple truth they know is true – when you feel better you do better. And using humour, while retaining the brands inherent masculinity, is the ideal way to get the brand into the conversations guys have everyday."