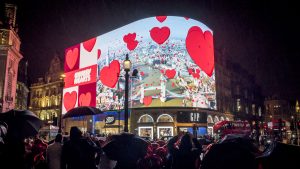 Chubby Hearts over London is a public design project conceived by the fashion designer Anya Hindmarch as a love letter to the city.
Starting on Valentine's Day and continuing as a celebration of London Fashion Week, giant ChubbyHeart balloons will be suspended over (or sometimes squashed within) 29 famous London landmarks and prominent locations across the Capital.
The balloons will float from dawn until dusk each day, reappearing above different locations the next day over the coming six days.
The Mayor of London, the British Fashion Council, the City of Westminster, councils, landowners, businesses, districts and the Civil Aviation Authority have joined together to create this project which will feature over Trafalgar Square, Battersea Power Station and Westminster Cathedral to name a few.
Ocean Outdoor is supporting the campaign across four of its full motion London screens including Leicester Square and both Westfield shopping centres. And the Chubby Hearts took over Landsec's Piccadilly Lights for a 40 second slot on Valentine's Day.
Chubby Hearts Over London is a design project conceived by Anya Hindmarch as a love letter to London and supported by the Mayor of London, the British Fashion Council and the City of Westminster. Find out more at https://t.co/1tZ0WUiaHU #CHUBBYhearts #AnyaHindmarch pic.twitter.com/DcJI9YhArn

— ANYA HINDMARCH (@anyahindmarch) February 14, 2018
Anya Hindmarch said: "The idea for this project came to me whilst sitting in a packed Royal Festival Hall. I was in awe of the resilience of Londoners and its visitors. Tying giant helium filled Chubby Hearts on to buildings all over the city is simply a 'surprise love letter to London' as a tribute to its strength and to celebrate our amazing creative city."
The Mayor of London Sadiq Khan said: "As London Fashion Week showcases the capital to the world, these huge heart balloons animating our great spaces and architecture will show once again that London is open to talent and creativity and gives it a warm welcome."
Councillor Robert Davis MBE DL, Deputy Leader and Cabinet Member for Business, Culture and Heritage at Westminster City Council said: "The City of Westminster is already the beating heart of our great capital and the home of London Fashion Week, so it is entirely apt we are celebrating this with a striking display from one of London's most foremost designers. Love is traditionally in the air on Valentine's Day, and will be quite literally over our many famous landmarks as the inflatable chubby hearts rise into the air for the day. What better way for Londoners and our many visitors to celebrate our love for the capital and the West End."
Source:Â Ocean Outdoor