On-site agency OLIVER has unveiled its new instalment in 3M's Workers' Choice campaign. The latest film, Larry and Barry, is being rolled out across social media to cement 3M's status as the go-to supplier of health and safety products for companies throughout the UK.
The quirky B2B campaign promotes 3M's PELTOR Protac III Headsets, putting the worker at the heart of it all in a witty, light-hearted film. The storyline focuses on two workers, Larry and Barry, who have chosen 3M's product "because they're intelligent ear defenders."
Displaying the headset's protective strength and music-playing capabilities, the film shows Larry and Barry brutally hammer and saw away at an out-of-shot workstation, slow-motion segues and grimacing close-ups. Barry reveals the punchline, picking up the fruits of their labour: a pristine, beautifully crafted, pastel pink dollhouse.
Larry and Barry continues 3M's mission to prove why, as end-users, workers should have a say in what products they're equipped with. Previous instalments in the Workers' Choice campaign have involved workers safely dancing to disco music while on the factory line, and getting so comfortable in their respirators that they forget to remove them when they take a shower.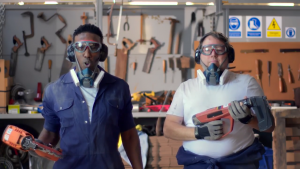 The films garnered impressive viewing figures – hitting the 130,000+ mark – and delivered increased sales figures, engaging and informing everyone from the factory floor right up to the boardroom.
Rob Kavanagh, executive creative director at OLIVER Group UK, says: "Our past iterations of Workers' Choice have all been resounding successes, using humour to hammer home genuinely important points when it comes to safety. 3M understands that to become leaders in the safety products market, it has to target both buyers in the companies and the employees. Working in-house alongside 3M's team, we've been able to deliver their vision once again."
Steve Crouchley, senior marketing executive at 3M, says: "Our previous Workers' Choice outputs have been a hit with both companies and employees – OLIVER's assets have always got the balance just right, making this so much more than just your average B2B campaign. 3M's success is built on the quality of its products and the connection with the people buying said products. OLIVER has yet again shone a light on these two key factors."
Source: OLIVER