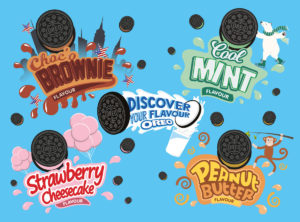 Global food group Mondelez International has partnered with experiential agency HeyHuman for Oreo's new 'Discover Your Flavour' campaign, promoting the new Choc'o Brownie flavour as voted for by the public, along with the existing Strawberry Cheesecake, Peanut Butter and Cool Mint cookies.
HeyHuman has designed the Oreo Truck's bold and colourful new look as well as the sampling team's vibrant branded jackets and tee-shirts, which are complemented by the furniture, bunting and signage that will accompany the truck at each stop around the country. The vehicle features colourful falavoursome splashes and images to represent the different personalities of each flavour.
It will be travelling around the UK for six weeks, beginning on 8th August 2017 and visiting locations such as the Bristol Balloon Festival, Edinburgh Fringe and Fusion Festival in Liverpool. HeyHuman has designed the truck to draw people in and to encourage them to try out a fun Buzzfeed-style quiz app, conceived by the agency to dial up interest and engagement.
Consumers who answer the five personality-trait questions will get to see which of the Oreo flavours they are most in tune with. People take the quiz on tablets provided by staff at the Oreo Truck and can share the results online. They will then receive a free Oreo truffle in that flavour, a speciality treat produced purely for this campaign, plus a recipe card that allows them to recreate the truffle at home.
Katie Bashford, Senior Brand Manager at Mondelez, comments: "Flavours have personalities of their own, and the tastes you enjoy say something about what and who you are as a person. We wanted to bring that thinking to some of the most popular types of Oreo cookies and get people talking about their personal flavours at the same time. HeyHuman has created an exceptional experiential campaign that will bring tasty and Wonderfilled Oreo truffles to thousands of people around the UK and encourage them to learn their own personal flavour."
Ben Lock, Business Director at HeyHuman, adds: "Oreo is one of the world's biggest snacking brands and everyone has their favourite one. We're bringing flavour and personality together and ensuring people around the country have the chance to try, share and discover. Quite simply HeyHuman has created a Wonderfilled, shareable experience to help people discover their Oreo flavours."
Source: HeyHuman