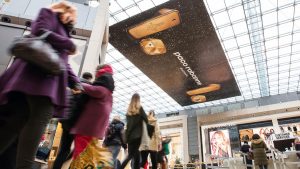 Limited Space, the shopping centre media specialist, has unveiled a brand new, media-first advertising format in Bullring, Birmingham that sees PUIG's Paco Rabanne brand run on the largest advertising installation ever seen in a UK shopping centre.
The campaign leads with the giant vinyl installation that measures an impressive 274m2 and is applied directly to the ceiling of the shopping centre. Located directly above the main atrium in front of the entrance to anchor store Debenhams, Paco Rabanne's #LetItGold campaign, promoting its '1 Million' and 'Lady Million' fragrances, is visible from all three shopper levels and is positioned in direct proximity to a premium point of purchase during the key Christmas gifting period.
Running for a total duration of three weeks, the activation is the first time an advertiser has ever placed a campaign onto ceiling space in a shopping centre, and becomes the largest media opportunity seen to date within the retail environment.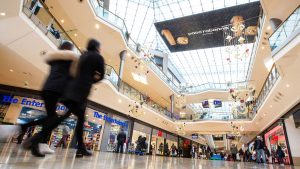 The campaign is enhanced by a collection of other high-impact media formats in additional mall locations throughout the UK including two double-sided hanging banners, each measuring 5mX3m, in Westfield Stratford and complete ownership of a large-format landscape digital screen in Manchester Arndale, complete with a full screen surround artwork wrap, 'Ultra HD' display and high quality audio.
Limited Space Co-Founder and CEO Matt Gordon said: "The entire process from conception to installation on this campaign just goes to demonstrate the vast array of possibilities offered by our media network and highlights the great relationships we have with our property partners. We have always dedicated ourselves to finding the most impactful and creative solutions possible for our clients and this ceiling activation takes things to a whole new level. The sky, literally, is the limit!"
Nita Chambers, Commercialisation Manager at Bullring, Birmingham said: "As soon as we were approached with the concept we were instantly excited about being part of this special activity and proud to help make it happen. It's something our visitors will have never seen before and definitely adds something extra special to our shopping experience in the build up to Christmas."
Source: Limited Space