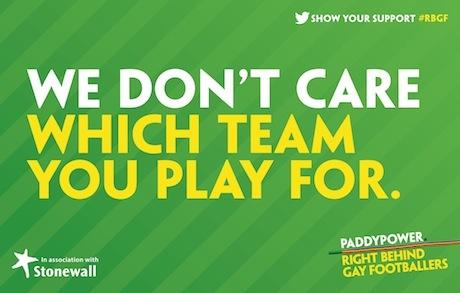 Paddy Power is joining forces with gay rights charity Stonewall to launch a campaign urging professional footballers to tackle homophobia in the game by wearing rainbow-coloured laces in their boots.
Sets of laces have been sent to every Premier League and Football League player, plus those in the Scottish Professional League in the hope that they will be worn during games on 21st and 22nd September.
The "Right Behind Gay Footballers" campaign will be promoted daily over the next week through a mix of outdoor advertising from Paddy Power and Stonewall alongside print and social media promotions. Supporters will be asked to tweet the hashtag #RBGF in the build up to the weekend's fixtures.
Laura Doughty, deputy chief executive of Stonewall, says: "It's time for football clubs and players to step up and make a visible stand against homophobia in our national game. By wearing rainbow laces players will send a message of support to gay players and can begin to drag football in to the 21st century."
The campaign, which is supported by Queens Park Rangers footballer Joey Barton, attempts to highlight the homophobic attitudes that prevent players from coming out for fear of persecution. It is hoped the push will generate more support from high-profile players than previous efforts where they have been urged to come out.
There are no known openly gay footballers in the English and Scottish professional leagues.
Former Leeds United player Robbie Rogers retired in February announcing his sexuality and claimed he would not have been able to progress his career had he done so earlier. He later returned to the game signing for LA Galaxy. Prior to Rogers revelation, only two footballers had revealed that they were gay – Justin Fashnu and Anton Hysen.
Paddy Power's anti-homophobia stance comes a year after it was rapped by the advertising watchdog for mocking transgendered people.