Ogilvy Social.Lab collaborates with Finn to create #AdoptaDogecoin beta program to support Finn's mission to help pups find a forever home.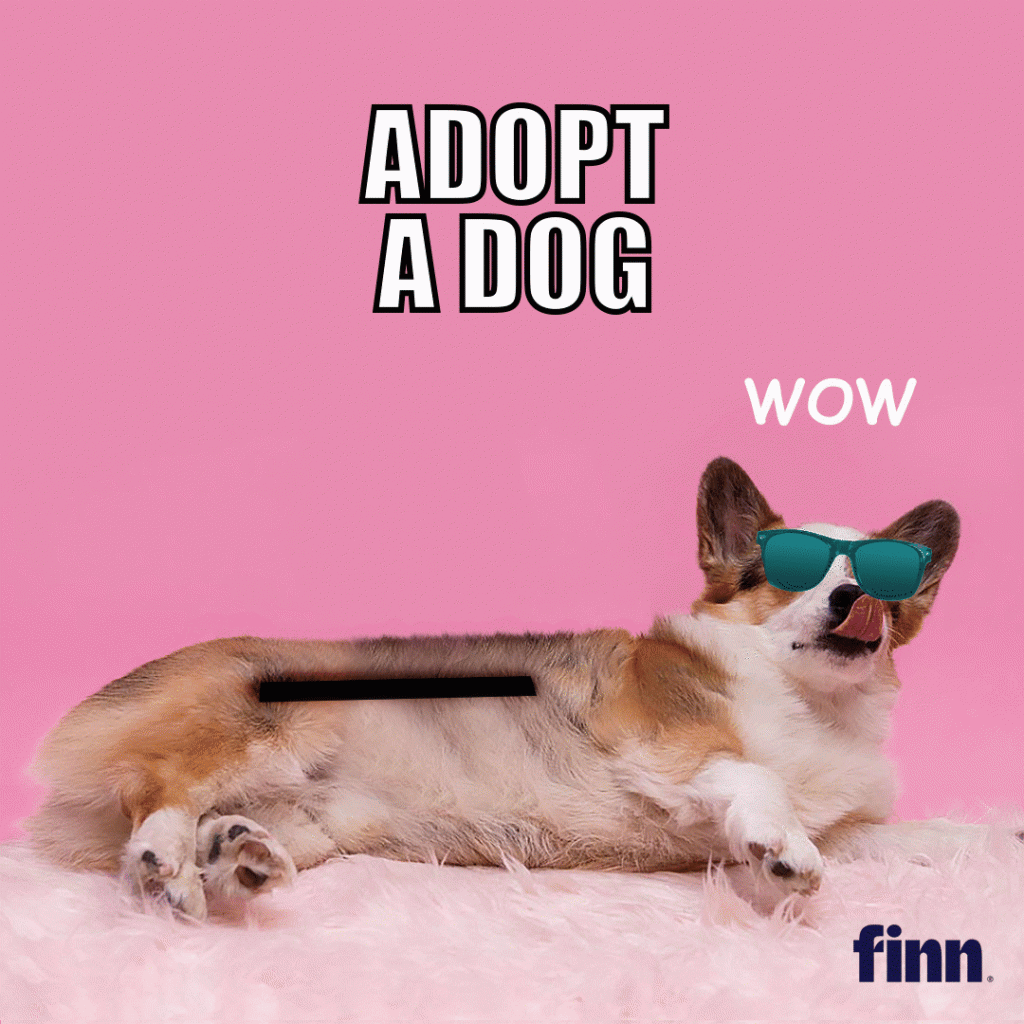 Today, Ogilvy Social.Lab launches #AdoptaDogecoin, a digital campaign that harnesses the power of cryptocurrency, and dog memes, to encourage adoptions amongst future pet owners.
Dogecoin (DOGE) is a cryptocurrency that has surged in popularity after getting public coverage and support from celebrities like Elon Musk and Snoop Dogg. It was created in 2013 based on the popular "doge" meme and uses its face as logo and namesake.
This campaign content promotes man's best friend as the best investment you can make. Not only because they provide unconditional love, meaning and joy, but also because they now come with a cryptocurrency that has experienced a value increase of 21000% since its official release in 2013. So a long term investment.
The campaign is created for dog wellness brand Finn, an American start-up that takes a modern approach to the category. From natural supplements for dogs, to their adoption program, Finn wants to make every dog's days a lot better.
Feel free to spread the puppy love here
The team at Ogilvy Social.Lab Amsterdam took a different approach to adoption. The agency utilised memes as inspiration, both in verbal and visual language in order to reach and engage with audiences to increase the chances to find loving homes for shelter dogs. This reactive idea capitalises on the popularity of Dogecoin, responding to headlines from major news outlets from around the world.
Executive Creative Director, Tolga Büyükdoganay says: "Adopting a dog is a life-long commitment, the longer you spend time with a dog the more it becomes part of your family. We wanted to underline this truth with a long-term investment plan, with Dogecoin cryptocurrency."
Finn co-founder, James Shalhoub, notes: "For the first time ever, we're leveraging the power of capitalism and technology and pointing them to one solvable problem – the health and safety of our dogs – who have always and forever will be our best friends and most loyal supporters."
Dogecoin aims to become the default crypto for merchant payments within the year, which will eventually lead to greater gains. As it happens, the American billionaire entrepreneur and Dallas Mavericks owner, Mark Cuban, will accept Dogecoin for tickets and merchandise.
According to European Business Review, Dogecoin could reach $1 towards the end of 2021. Which means that if you adopted a Dogecoin dog with 500 DOGE today at $0.05, your dog could have in your crypto wallet around $500 worth of DOGE by the end of this year. And who knows where it goes up next? To the moon.
The beta program already has numerous dog shelters in New York City, Los Angeles, and Costa Rica participating, with plans to expand into more markets in the upcoming weeks.
Find out more at: petfinn.com/adopt/
Agency: Ogilvy Social.Lab Amsterdam
ECD: Tolga Büyükdoğanay
Senior Creatives: Jose Hernandez Víctor Morón
Junior Creatives: Erwan Elmayan Justine Senee
Senior Strategist: Justin Jackson
Account Manager: Evelyne Brockhoff
Account Executive: Saskia Schreuders
Source: Ogilvy Social Lab