Petits Filous, the much-loved children's fromage frais brand, announces a first-of-its-kind partnership with Amazon Pantry. The innovative collaboration not only marks a pledge from Petits Filous to both champion and facilitate free, imaginative play in the UK, but also represents a significant investment for the Petits Filous brand.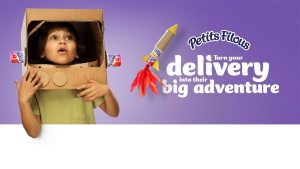 Petits Filous believe a little less structure and a lot more play is crucial for helping kids learn more about the world, and themselves. To support this, and help parents across the UK encourage their children to play freely every day, Petits Filous is partnering with Amazon Pantry to transform every cardboard box into an opportunity to play.
The collaboration, which will span July and August, will see 200,000 Amazon Pantry boxes sent out to consumers including inspiring, play-promoting instructions created by Petits Filous. The instructions seek to inspire UK parents and caregivers to pause before recycling a crucial aid to their children's imaginative play and development; the humble cardboard box.
Further bringing the partnership to life are four new Amazon Alexa skills. As of July, caregivers and children need only ask Alexa to 'open Petits Filous' to enjoy four fun mini challenges; enabling their little rascals to explore pirate ships, enchanted castles and outer-space! Petits Filous has also collaborated with children's charity and free play pioneers the Institute of Imagination and expert futurologist Mark Stevenson to produce a report; The Future Of Imagination.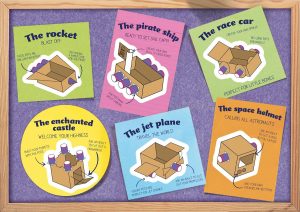 From July the brand will set in motion a fully integrated, cross-discipline marketing and PR campaign as part of their 2018 £3M media investment. To support this, Petits Filous have produced 28 million fromage frais pots with a Play Free idea printed on the underside of each lid, inspiring kids to 'peel, lick and play free'. This truly 360° campaign's be-fittingly playful, vibrant and fresh creative was devised by Grey London.
Mark Brown, UK&I Marketing Director for General Mills and Yoplait, commented: "We're delighted to be partnering with Amazon Pantry this summer and are looking forward to building on our 30-year UK heritage with an initiative that will fuel the next generation's imagination. We're passionate about nourishing children's development and Amazon Pantry represents a fantastic opportunity to transform humble everyday items – such as cardboard boxes and yoghurt pots – into opportunities to do just that. As a parent, I'm personally excited that this campaign is so connected to the brand's purpose, and I'm excited to see it come to life in homes across the country this summer."
Source: Grey London