From climate change to human rights, most citizens across age groups and regions believe it's important for companies to act. Yet 63% believe companies forget about social challenges once they're out of the news headlines and 61% agree that companies make promises and statements without making meaningful change.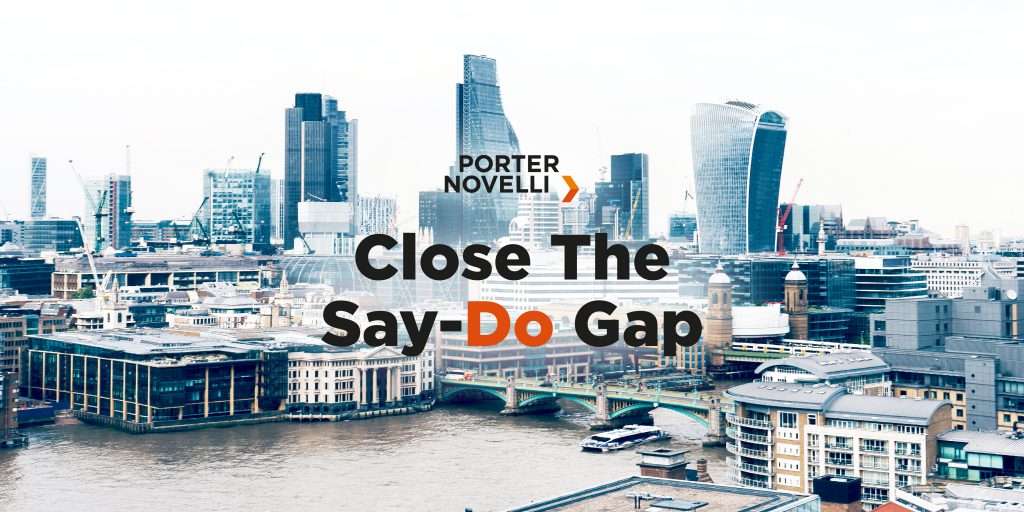 Today, Porter Novelli London has unveiled a new proposition to help clients in EMEA close the say-do gap. This launch, that aligns with Porter Novelli's global strategy and positioning as the communications partner for the stakeholder era, follows on from the hire of Sarah Shilling to EMEA EVP and elevation of Fenella Grey to EMEA MD and Chair.
The 'say-do gap' is the gap between what businesses say – as brands and through their products and services – and what they deliver. At a time when stakeholder expectations are at an all-time high and constantly changing, closing this gap is essential for businesses to prosper and Porter Novelli's ambition is to give clients this competitive edge.
And now is the moment. While there's been a tendency in post-Brexit Britain to focus on political divisions, Porter Novelli's research shows there is majority consensus across age groups and regions regarding key issues citizens want companies to take action on. These include climate change, employee health and wellbeing, disability inclusion and human rights, to name just a few.
Fenella Grey, EMEA MD and Chair says: "We are the communications partner for the stakeholder era. With our new EMEA market proposition we help clients close the say-do gap by using the power of honest communications to engage employees, inspire customers, support suppliers and motivate investors. We look forward to helping brands do more than talk by applying our sharp minds and smart data to propel our clients forward with rigour."
And there's positive news as 65% of people agree that moving forward post-lockdown provides the chance to have more productive conversations about the positive changes we want to see in the world and 53% intend to stay loyal to companies that action the issues that matter to them. Porter Novelli has named this trend as The Expectation Era and will continue to monitor how expectations evolve with their quarterly expectation tracker. An activity that builds on nearly three decades of investment in global proprietary research by Porter Novelli which has spanned 10 countries and over 10,000 consumers.
And this appetite for action doesn't just apply to businesses as it can be seen in how consumers view their own lives. Whether it's rallying for policy change, setting up a business or writing a book, people have discovered they too can really 'do it' for themselves. Porter Novelli has labelled this trend as the 'Do it moment' as a staggering 75% of people have set new goals coming out of lockdown and 57% of people wanting to stick with positive changes they have made to their lives during the pandemic. 55% want to live in the moment now more than ever before and almost a third (31%) say they have re-evaluated their career goals since the pandemic began.
What does this mean for companies? Put simply, being action orientated and closing the say-do gap has never been as important.
Source: Porter Novelli London