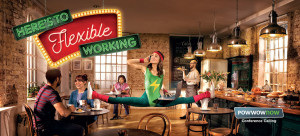 Powwownow, the free conference call service, has launched a comical new campaign encouraging businesses to focus on flexible working in the new year.
The print and poster ads show people at work in the office, in a coffee shop or at home dressed in gym gear doing extraordinary stretches and looking eye-wateringly agile.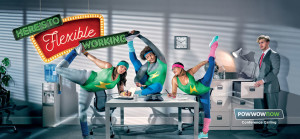 The campaign, created by Hometown, will run online, on OOH, taxis and digital outdoor sites and also includes comical radio ads inspired by classic 1980s workout videos.
As people returned to work after the Christmas break, we launched our second campaign for Powwownow, the leading conference call service. In 2016 the focus is on flexible working, highlighting and encouraging people in businesses to be more flexible and agile.
The campaign brings this to life in a hyperreal way, showing everyday people being agile whilst working; be that in the office, in a coffee shop or at home.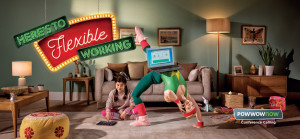 Credits:
Client: Powwownow
Agency: Hometown London
Creative Director: Simon Labbett
Writer: Gemma Fowler
Art Director: Neda Shadanlou
Photographer: Gary Salter