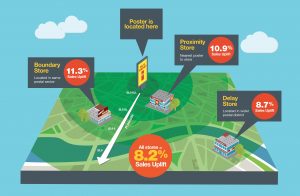 New industry research launched reveals that OOH advertising in close proximity to a retail outlet can deliver strong sales uplift for FMCG brands, but more significantly it has a knock-on effect on sales within other stores in the local area.
The research, a new test-and-control methodology developed by out of home and location marketing specialist Posterscope and IRI, was designed specifically to measure the impact that proximity OOH advertising can have on purchasing behaviour and product sales across multiple stores.
The research shows that proximity OOH advertising drives impulse purchase not just in the nearest store to where a poster is located but it also has an impact on consumers' purchase decisions when they are in other stores further away from the poster site, across the duration of the campaign.
Conducted on one snack and two confectionary products from several FMCG clients, the research analysed the impact of an OOH advert across three store types in three control regions: the Proximity store, the store nearest to the OOH panel, which generated a 10.9% sales uplift; the Boundary stores, located in the same postal sector of the proximity store and the OOH panel, that saw a sales uplift of 11.3%; and Delayed stores, located in the same postal district of the proximity store and OOH panel, which saw a sales increase of 8.7%.
Russell Smither, head of research and insight at Posterscope, commented: "This research has proven something we've always instinctively known – that advertising placed in close proximity to product stockists' influences planned and impulse consumer purchases.  We created a different type of research to test our theory, based on real campaigns, and it has provided an exciting new rationale for buying proximity OOH as it not only influences impulse sales but also drives purchase consideration across multiple local stores for the duration of a campaign. Based on the campaigns we tested, sales uplift reached 8.2% across the three stores and delivered a very positive average ROI (Return on Investment) of £1.64 for every £1 spent on OOH media."
To provide sales benchmarks, the test stores were matched to control stores of the same size, with the same product and brand sales but with no OOH in their surrounding area.  Store selection was based on manufacturers' data relating to its top performing retail partners for key products, including Tesco Express, Sainsbury's Local, Co-Op, Bestway, Landmark, Spar, Nisa, McColls, Best One, Premier, WH Smith and Costcutter. In addition to providing sales benchmarks, it enabled us to measure the sales effects of the proximity OOH strategy across these various stores. 
As a result of the research findings, Posterscope has created Proximity Plus, a new out of home campaign approach, measured by postcode and more accurately reflective of consumer behaviour and purchase journeys.
Source: Posterscope