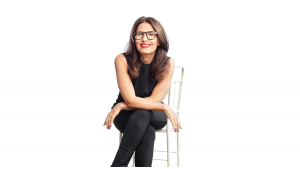 Publicis Canada today announced the appointment of Joanna Monteiro to the role of Chief Creative Officer, Publicis Toronto. Monteiro will lead the agency's creative talent to deliver dynamic and disruptive creativity at every touchpoint, driving impact for clients.
She brings an expansive creative pedigree and will play a leading role in further strengthening Publicis Groupe's focus on creativity and how it works seamlessly with data and technology to help clients. "She will report to Brett McIntosh, President, Publicis Toronto, and will join the agency's Executive Leadership Team" says Publicis Canada CEO, Duncan Bruce.
Monteiro joins Publicis Toronto from Brazilian advertising agency Heads Propaganda, where she was previously Chief Creative Officer. Prior to that, she held a number of senior creative roles across Brazil, including Chief Creative Officer at FCB; she also spent time at various creative agencies such as Africa Advertising, Ogilvy, DPZ&T and W/McCann.
Monteiro has been named Business Insider's "most creative woman in advertising" and among its "30 most creative people in advertising;" recognized via Advertising Age's "Women to Watch" and "Creativity 50;" and ranked among the Big Report's Top 10 most award- winning creative directors in the world. The product of two academic powerhouses, Monteiro graduated with an Arts degree from Brasilia University (UnB), and earned her postgraduate degree in Advertising and Marketing from ESPM, one Brazil's top ranking institutes.
"We felt it was important to add a creative visionary like Joanna to our team. Her impressive work speaks for itself and her ability to deliver powerful storytelling across borders will perfectly complement our existing team and capabilities," said McIntosh. "More importantly, she is a wonderful person who will fit well with the open and engaged culture of our people and our clients."
This hire further fortifies a dynamic leadership team at Publicis Toronto, which in 2019 included the hire of Andrea Isbester as EVP, Head of Planning and Strategy and the elevation of Alister Adams to Managing Director and Chief Digital Officer.
"I've been energized by the ambition and relentless transformation of the Groupe. Publicis has the right plan, right model and the right people to solve for the big challenges clients are facing," said Monteiro. "I'm very excited to be part of this journey – it is a once in a lifetime opportunity to work with brands that I've admired my whole life."
Source: Publicis