Leading industry event will focus on the evolution of digital ecosystems and real-time activation
Xenoss, the AdTech software development house, is thrilled to announce that it has partnered with Aerospike for Real-Time Connect; an executive networking event for AdTech veterans taking place in New York on May 2, 2023, where keynote speakers from Aerospike, Aqfer and Xenoss will address the productive and cost-effective use of large volumes of data in AdTech.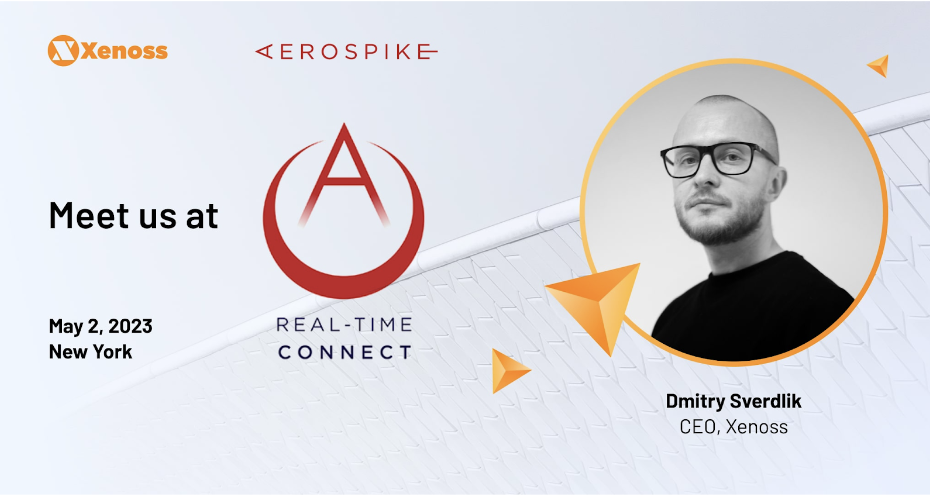 Real-Time Connect will contain three lectures with panel discussions about:
Operationalising identity data for real-time activation and the evolution of ecosystems across digital platforms
Addressing problems of large-scale AdTech software development projects
Real-time data insights and ideas shaped by Aerospike's cooperation with Nielsen, Roku, FreeWheel and others
"Companies which become more multi-platform and have petabytes of real-time data are compelled to look for cost-efficient strategies to leverage available data at scale. The event's speakers will cover tackling these challenges and building development teams for big AdTech projects," says Xenoss CEO Dmitry Sverdlik, who will reveal at the event the common problems of large-scale AdTech software development projects and share insights and considerations that businesses need to take into account in order to deliver great results.
Dmitry has 20 years' experience working with tech companies and holding senior management, chief executive, and board member roles. He was part of the team behind the world's first mobile DSP and led several AdTech startups to a successful exit.
Other speakers include:
Dan is CEO at Aqfer, an executive and entrepreneur credited with inventing online behavioural advertising and pioneering internet privacy standards and data warehousing technology. He founded Korrelate and Engage and was the president of TACODA. Dan has experience in AdTech, privacy management technology, public policy and business strategy, database marketing, data warehousing, parallel database technology, and Big Data.
Daniel Landsman, Global Director, AdTech/MarTech/Gaming Solutions, Aerospike
Daniel has over a decade of experience, having worked with some early pioneers in mobile programmatic ecosystems. He is a top-viewed writer in AdTech on Quora with over 140K views. Daniel has unique experience working as a key member of the revenue teams for multiple exchanges, Big Data, Identity, AI, Data Platforms and DaaS businesses.
Attendees at Real-Time Connect can expect to experience meaningful conversations with industry veterans, share experiences and enjoy a cocktail reception. For more information, access either the event page or via this form. 
Source: Xenoss