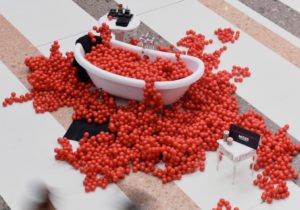 Despite being the origin of Kamasutra, people in India are surprisingly shy to talk openly about sex thereby condoms.
Only 5% purchase reflects the stigma attached as people are embarrassed to buy condoms. Moods being one of the largest selling condom brand in India, wanted to promote the use of condoms without making the consumer uncomfortable.
Creative agency Rediffusion Y&R, conceptualized the installation ideas with balls signifying the dots on the condom for enhanced pleasure.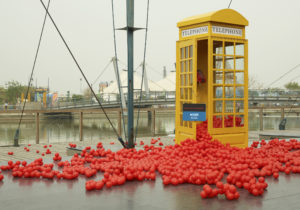 Installations with Telephone booth, car and bathtub filled with the balls were set up in buzzing malls, exhibiting these red coloured dots with one striking message; 'Play with 1500 dots'.
The very first installation went live around the Valentine's Day earlier in 2016, and recently another set of installations were seen creating buzz.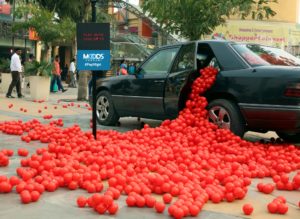 The idea has been receiving favourable responses by all. Some clicked pictures; some asked questions, while some even carried them back home waiting to be pleasantly surprised with condoms inside them. All in all these installations created a successful interactive forum making a conversation reserved for closed doors, the talk of the town.
The Brand Campaign rolls later in April.