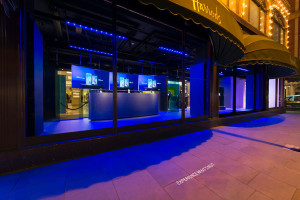 Samsung is set for a retail first with a campaign, developed with Cheil UK, that will put it centre stage in the world's most famous department store: Harrods. The activity will see Samsung take over the majority of the retailer's window displays and is the first time the retailer has let a technology brand take over the whole store.
Working with Cheil UK, Samsung's "Experience Innovation at Harrods" campaign has been designed to showcase and generate awareness for a range of electronics products including Samsung's latest innovative SUHD TVs, domestic appliances such as the WW9000 washing machine and Chef Collection oven, as well as two ground breaking smartphones, the Samsung Galaxy S6 and Galaxy S6 edge.
For three weeks, up until 24th April, Samsung will take over two sides of the prestigious Harrods storefront, including three adjoining windows facing Brompton Road that will be turned into an exhibition space – directly accessible from the street.
Samsung branding will feature on signage throughout the store including vinyl posters, lobby wraps and digital screens. There will also be a brand takeover of the digital space incorporated within the Egyptian Escalator network.
In-store activity is being supported by Samsung branding on the Harrods website and advertisements in the April issue of Harrods Magazine.
From 10th April, Harrods customers will have the chance to purchase one of a limited number of Samsung's Platinum Gold Galaxy S6 edge limited edition bundle, this includes: the Galaxy S6 Platinum Gold 128GB smartphone, a Platinum Gold flip cover and a wireless charger. Each Harrods customer will be able to have their new phone engraved, with the limited-edition bundle presented in a Harrods-branded box.
The installation took place during the Easter bank-holiday weekend and the brand takeover will be complemented by an exhibition in a gallery space on the Second Floor of Harrods. This will demonstrate innovation in technology and the changes that have been made during the past 25 years, showcasing a range of Samsung products.
Cheil UK, in collaboration with MDLab, developed and delivered the Samsung brand experience across all visitor touch points – spanning creative concepts, window programmes and the display design for the Brompton Street windows.
Ines van Gennip, marketing director, IT & Mobile Division, Samsung UK & Ireland, said: "Samsung prides itself on the quality and innovation of its products, and is constantly striving to match this with new ways of communicating with consumers. Samsung knows that Experience is the new form of Luxury, and working with Harrods for this brand takeover was a fantastic way to capture the minds of shoppers."
"Cheil UK has delivered a campaign that brings the luxury and innovation of our technology to life in a way that speaks to the Harrods customer."
Peter Martin, managing partner, UK head of retail experience, Cheil UK, added: "We have achieved some incredible firsts for Samsung in the past few years, but for us as an agency, from a retail point of view this is by far the biggest and most prestigious. Harrods is known by, and attracts, shoppers from across the world. This presents a fantastic opportunity to put Samsung in the minds of shoppers at a time when they are open to the retail environment and to brand messaging. We're immensely proud of what we have achieved here and look forward to seeing 'Experience Innovation at Harrods' in situ."
Annalise Fard, director of home and technology at Harrods, commented: "We are delighted to be working with Samsung for the April 'Experience Innovation' takeover. At the forefront of luxury retail, Harrods is the ultimate launch-pad for cutting-edge new and exclusive products and services, delivering the most innovative and luxurious products from around the world to our discerning customer base. Our partnership with Samsung, will give our customers the opportunity to experience, first-hand the world of Samsung and some of the brand's market-leading technologies."