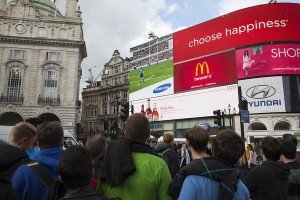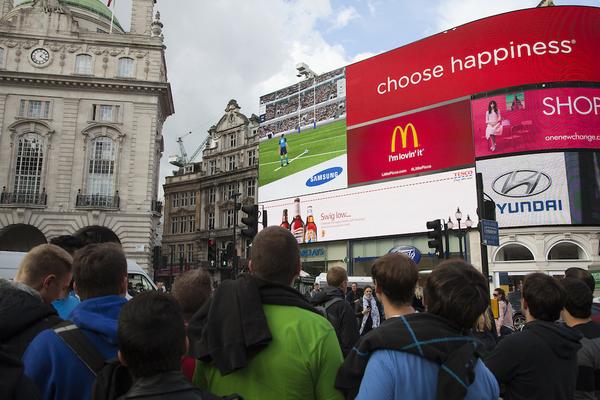 Samsung UK turned its Piccadilly Circus Screen, the UK's most famous advertising space, into an interactive rugby game called 'Penalty kick', supporting the launch of Samsung's Galaxy S6 edge range.
The two-day campaign by Cheil UK, which took place on 18th and 19th of September, aimed at getting people excited about upcoming rugby events and test their rugby skills in one of London most iconic locations. Londoners and visitors were encouraged to take part in a game of 'Penalty Kick', displayed on Samsung's Piccadilly Circus Screen.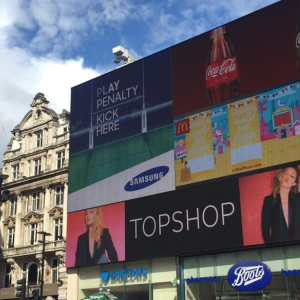 The 3D game, which is the first Cheil UK has made for Samsung UK, gave players three chances at launching the ball through the goal posts via the Galaxy S6 edge handset from the ground. The action played out on the Piccadilly Circus screen in real time.
Brand ambassadors in Samsung branded rugby outfits showcased the Galaxy S6 edge and encouraged practise shots before competing live on the Piccadilly Circus screen. Each player got three kicks and the combined scores were be entered into a leader board, for the chance to win a Galaxy S6 edge +.  All those who participated will be entered in a random draw for a chance to win.
The Piccadilly Circus activation was supported by social activity on Samsung's Facebook and Twitter pages prior to and during the activity. This was geo-targeted to London, encouraging footfall at the event and offered members of the public the opportunity to play and share content from the ground.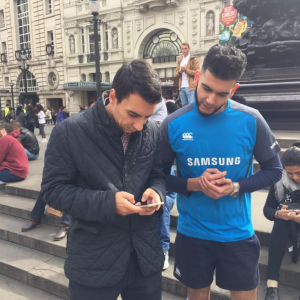 Fiona FitzGibbon, head of media at Cheil UK, said: "In 'Penalty kick' we're utilising one of the most iconic screens in the world. Cheil UK is always looking to push the boundaries of digital out of home for Samsung UK and creating our own game is another example of this, and another in a long line of firsts for the agency. 'Penalty Kick' will bring a new level of interactivity and innovation to Samsung's prestigious screen."
Cheil UK was responsible for the campaign concept and delivery including developing the 'Penalty kick' game. The 'Penalty Kick' game cramed features usually only found in AAA console games into a mobile browser. Using the latest HTML5 APIs such as WebGL and the advanced PlayCanvas engine the game featured 3D graphics and audio in a real-time physics simulation.