Shock Absorber, the UK's number one sports bra brand, has launched a new digital-first campaign to grab attention, educate and encourage women to look after their breasts whilst exercising.
Running for eight weeks from October 24, the campaign leads with a high-energy 60 second video that will appear on Facebook, humorously detailing the effect that not wearing a proper sports bra can have on your breasts and highlighting the shocking fact women's breasts can move up to 14cm when exercising
The campaign video and supporting assets, which will appear on Instagram, use a series of colourful tongue-in-cheek images to communicate the ways in which women's breasts can be damaged irreparably through insufficient support during exercise. Set to a high-octane soundtrack, this is contrasted with gritty footage of real women exercising in Shock Absorber sports bras to highlight the impact that women's bodies go through during exercise.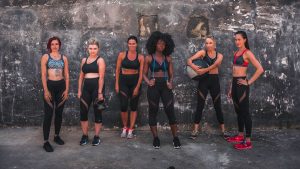 The activity is supported by a digital media partnership with Stylist magazine and influencer collaborations, with the campaign hashtag, #RealShockSupport to drive conversation.
Heather Nogueira, Business Manager, Marketing said: "This campaign is extremely important to us at Shock Absorber. We're consistently surprised by the fact that 80% of women are not wearing the right size sports bra when they exercise, meaning their breasts are not getting the proper support they need to stop irreversible damage from happening over time. Through the development process of our products, we conduct extensive research with the University of Portsmouth to ensure our sports bras offer the maximum comfort and support for every woman, no matter their size or how they move. This campaign is our way of putting this research in front of real women in an engaging and fun way, with a few shocking facts along the way that will make women everywhere sit up and take notice that now is the time to support their breasts."
Source: Shock Absorber