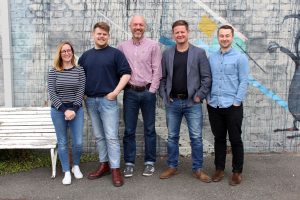 Established Newcastle and Teesside-based digital marketing agency Silverbean launches its new search and paid marketing agency, AGY47.
Offering organic search, paid marketing and conversion rate optimisation services, AGY47 takes a customer-centric and data-driven approach to marketing, helping brands overcome the problems that are hampering their digital performance. Through effective collaboration, the agency aims to create a shared vision with brands that will help them unlock their sales potential and better service their customers.
As the digital marketing landscape becomes increasingly competitive, AGY47 believes this customer focus sets them apart from their competitors, as Head of Search Andrew Charlton explains:
"This is an exciting step for us. By adopting a customer-insight and data-led approach, we can deliver tangible results that will genuinely benefit our clients and their customers. Rather than taking a blanket approach to search marketing, we tailor each campaign accordingly to deliver the greatest impact in-line with client objectives."
To celebrate the agency's launch, AGY47 is co-hosting an event with Google on 6th September 2019 at The Works, Central Saint Giles, London. Titled 'Preparing for Retail Peak 2019', the event will feature key speakers discussing how brands can best prepare for Q4 success, including approaches to shopping feed management and advice on budget planning and phasing.
The Silverbean brand still remains, now specialising solely on affiliate and influencer marketing — an area the agency has excelled in for over 15 years. Today, the agency works with some of the biggest brands on a national and international scale, including HelloFresh, New Balance and a portfolio of L'Oréal brands.
While the two agencies may have their own distinct focuses and identities, their values remain aligned to provide a consistently high standard of service.
Explaining the move, CEO Neil Robbins said: "As the dynamics of our marketplace continue to change and clients become more confident in buying agency services, we have seen a continued trend for brands seeking very specialist agencies to partner with. To align ourselves with that, so we can continue to meet our long-term UK and international growth ambitions, I felt it was critical we had an agency brand strategy that current and future clients could clearly understand. This has led to the formation of our new search & paid marketing agency brand, AGY47. It will sit alongside Silverbean, which will become a dedicated affiliate & partnership marketing agency. We are still the same company, we still have the same great people delivering outstanding results for clients, but now we have two unique agency brands."
Source: Silverbean