Great Guns director Tal Zagreba launches a new TVC for premium Japanese cosmetics brand SK-II, featuring Chinese musical superstar Leah Dou.
'Pitera Wonderland' aims to promote SK-II's limited-edition bottles, designed by celebrated Australian artist and illustrator Karan Singh. The 60-second spot, which garnered an impressive 1.6-million views in just three hours after launch, was directed by Great Guns' Tal Zagreba, who was instrumental in the creative development on the animation.
Bringing Singh's wondrous 2D illustrations to life in mesmerising 3D detail, the action-packed TVC transports audiences from Leah Dou's dressing room into a SK-II essence droplet. The camera glides over a technicolour world of colourful, striped mountains and polka-dot landscapes that encapsulate Singh's signature style. Funky, dancing characters with triangle-shaped heads operate zany cranes, ships and planes to carefully craft the limited-edition SK-II bottle.
Tal was tasked with creating a mind-bending 'portal' to allow SK-II users to interact with the world of the artwork.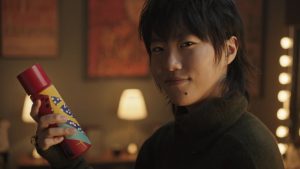 He comments: "I was fascinated by the opportunity to transform 2D prints into a 3D adventure and to incorporate Karan Singh's wonderful style into my own vision for the film. As an artist, I love to push the boundaries of media and genres. I was privileged to work on the concept art and designs with an amazing team and I worked closely on the storyboard development with my long-time collaborator, Robert Moreno. It was a huge pleasure to work with so many talented people and to navigate all the different ideas until we found the right formula of magic."
The team enlisted virtuoso dancer Kieran Lai to seamlessly imbue the unique characters with cute and funky human gestures. Through a motion-capture session in Warsaw, they collected a huge bank of movements – bringing a unique, live-action feel to the scenes.
Tal comments: "The biggest challenge was to finish the huge amount of work within the tight time frame – less than a month for the whole post production stage. It was an extremely intense race against the clock – you've gotta love the adrenalin – and thanks to everyone's hard work, we managed to go on a crazy ride to the wonderland and back. Thanks to Platige Image, who invested tremendous efforts and human resources to deliver in time. It was an ambitious production schedule to say the least, and was only made possible thanks to SK-II and P&G for being so amazingly supportive and collaborative, and to Great Guns for producing and making the impossible."
The TVC is now live online.
Source: Great Guns