Newly launched NYC agency SMALL launch PUBLIC vs PRIVATE, an online and social campaign which launches the global Samsonite x Diesel special edition collaboration on a collection of semi-transparent, highly detailed luggage appealing to the new generation of modern travellers and business commuters.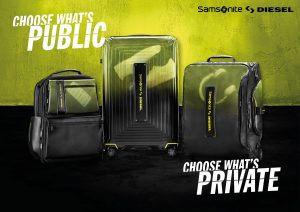 The film perfectly marries up with the creative idea: that we live in a time where the balance of what we share vs. what we keep private is constantly in flux. Inevitably, all of us live part of our lives in public.
The film shows individuals expressing the seemingly contrasting sides of their personalities (a leather wearing motorcyclist by day, and a spin-class lover by night; a drag queen dressed perfectly on stage and a man in his socks at home). The point being: each part of us — public or private — makes a whole.
SMALL founders are Luca Lorenzini & Luca Pannese, the multi award winning team (29 Cannes Lions, One Show, D&AD) behind these campaigns for Diesel, Pampers, Heineken and CoorDown whilst at Saatchi & Saatchi, and then Publicis. They left in 2018 to launch SMALL.
Founders of SMALL, Luca Lorenzini and Luca Pannese said: "We found that the product was a perfect physical metaphor of social networks, where you can choose what you want to share with others and what you want to keep for yourself."
Source: SMALL