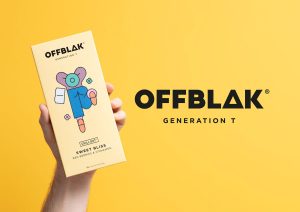 OFFBLAK, a new direct-to-consumer lifestyle tea brand delivering blends that taste as good as they make you feel, has launched in the UK, with branding by London-based branding agency & SMITH. Looking to redefine the tea category, OFFBLAK targets Gen Z and Millennials driven by beauty, status and experience with an identity that encourages the consumer to 'Drink tea like everybody's watching'.
OFFBLAK founder, Dmitry Klochkov aims to shake up the drinks industry and set an exciting new course for tea with a brand that appeals to a more health-conscious consumer unafraid to experiment with new brands and flavours. To meet this brief, & SMITH created an identity for tea industry challenger OFFBLAK that brings a premium feel to a highly discerning Gen Z and Millennial market, which & SMITH has playfully named 'Generation T'.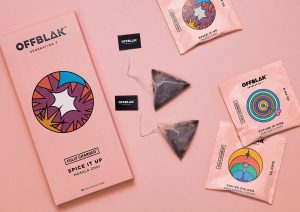 "We want to be more than tea – much more. Today, natural ingredients are a given but often, good-for-you teas miss the mark when it comes to taste. Our identity needed to redefine the category and capture OFFBLAK's zero-compromise on taste and excitement, while being brave and direct. We're rule-breakers and the identity & SMITH has created really embodies that", says Dmitry Klochkov.
Stepping away from existing category design codes, & SMITH introduced a fresh colour palette and range architecture that clearly differentiates between the four core categories: Fully Charged, Chill Out, Glow and Caff Free.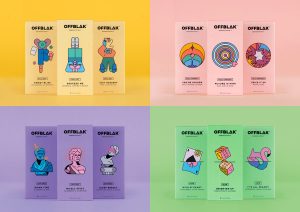 Each of these four categories reflects the upfront benefits of the tea, aiding selection of the right flavour for the right need – whether that's a detoxing tea or an enlivening, refreshing flavour. This is further supported by emotive naming within each category to reinforce the core benefit messaging, from 'Brighten up' and 'Spice it up' to Squeeze me' and 'Down time', followed by details of the specific flavour profile.
On the back, each pack incorporates further information on the caffeine level and flavours, with details of what the tea feels like, for example, 'Finishing a yoga session'.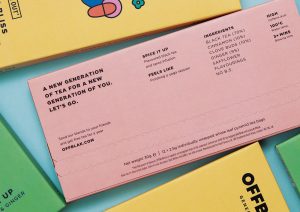 To break the rules of tea, OFFBLAK's packaging needed to be bold and stand at the intersection of quality and must-have appeal.
& SMITH delivered a playful look and feel through a collaboration with illustrator Thomas Hedger, using bright colours and fun illustrations that reference each category's mood and effect.
Each sub-range owns a specific style, such as a circular graphic or figure in different poses, with each flavour profile depicted by a new illustration.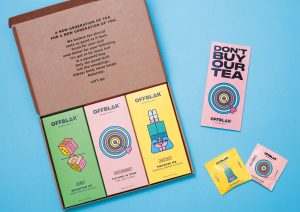 Each slimline box, specifically designed to fit through a letterbox for convenient and smooth delivery, features the range information on the spine. Once lined up, the full collection becomes a library of tea that feels happier on Instagram and on shelf than in the cupboard.
Reflecting OFFBLAK's dedication to delivering premium quality whole leaf tea, each serving comes in a pyramid tea bag for better diffusion of flavour. With quality and taste being a top priority, & SMITH embedded this commitment into OFFBLAK's logo by creating a distinctly triangular 'A' as a nod to the pyramid tea bag design.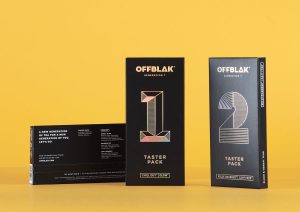 To boost the social appeal of OFFBLAK tea, & SMITH created a 'Don't buy our tea. Try it' campaign that sees complimentary OFFBLAK tea samples sent with ASOS and Missguided orders from May 2019 onwards. Via the OFFBLAK website, customers also can send tea samples to friends and potentially win Free Tea for a Year, delivered as a combination of teas in a slick black box with iridescent foil branding.
Dan Bernstein, Creative Partner at & SMITH says: "We looked at tea as we know it, how it is delivered – both visually and physically. We've given OFFBLAK the illustrative freedom that craft beer and coffee sectors have owned until now, with the flexibility to grow and develop the range with a truly ownable identity. OFFBLAK has an exciting attitude towards tea with an eye fixed on changing perceptions and standing out from the crowd. That's right where we like to be."
Source: & SMITH