This week sees the launch of the winning campaign from Snap's 2021 UK Creative Council programme, 'The Future Looks Good' created by Cathryn Carey and Phoebe Chetwynd-Talbot. 
Creative Council UK – The Future Looks Good – Lens from VPR on Vimeo.
The Creative Council, which launched in 2020 in partnership with Creative Equals, brings together leading UK creatives, challenging them to use Snapchat to develop creative solutions to address pressing societal issues. Council members do this by nominating small teams in their agencies to respond to a creative brief, with the winning idea produced and launched on Snapchat.
This year's winning campaign by Cathryn Carey, Creative Art Director and Phoebe Chetwynd-Talbot, Creative Copywriter, while at Leo Burnett, was in response to a cause related brief focused on the mental health of GenZ in relation to their future, and career opportunities. It uses AR to help them realise the power of their digital skills, problem solving and critical thinking, by reframing the workplace of the future.
Working with Snap mentor, Hayley McDonald, Cathryn and Phoebe looked at research into the education and career challenges facing GenZ following the pandemic, that revealed there is a shrinking pool of entry-level jobs and an uncertainty about what the future of work will look like, leading to additional mental strain for "Generation COVID". However, research also revealed that 75% of all jobs will require advanced digital skills by 2030, and as the first truly digital generation, GenZ are actually entering the workforce the best equipped, and with the intuitive skills needed, to thrive in the workplace of their future.
With these insights in mind, the team created an AR experience to inspire Gen Z to build the future of their dreams, and pave their own path in the world, with their unparalleled skill set and natural talents. The winning campaign comprises an AR Face Lens that allows Gen Z Snapchatters to choose from a series of skills to generate job titles for careers of the future – including Extinct Species Revivalist, Hydroponic Farmer, Digital Fashion Design, and a World Lens Experience that demonstrates how these jobs could impact the world around us and interact with immediate outdoor surroundings.
Commenting on their win, Cathryn and Phoebe said: "To be awarded the top prize is such an honour, and it feels amazing knowing that our vision aligned with the Snap Creative Council's idea of hope for the next generation. Working with the incredible folks at Snapchat to bring our idea to life was so much fun, to feel the same sense of urgency and calibration of ideas right from the get-go filled us with energy and excitement and made each and every step of the process a breeze. Thank you to the whole team for their hard work and passion on this project."
David Norris, European Head of Creative Strategy at Snap commented: "This year we had 13 amazing teams participate in the Snapchat Creative Council and it was wonderful to be able to all come together for the face-to-face pitching and judging at Snapchat's HQ in London. In front of a panel of ECDs from brilliant creative agencies including We Are Social, Leo Burnett, VMLY&R, McCann and more each team pitched and faced questions on their idea before the judges scored, debated, and discussed each entry before finalising on this year's amazing winner – The Future Looks Good."
The AR lens, video ads and filter can be found on Snapchat from this week, or scan the Snapcode below to launch the lens.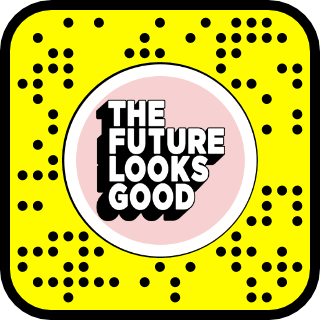 Source: Creative Equals