International production company HAMLET launched an online brand film for sportwear fashion brand, Snipes. Created by fashion agency Meet Herbert, and directed by highly acclaimed photographer/director Pascal Kerouche, 'You Can't Stop Us' features hip hop sensation Meek Mill who also narrates the spot.
Shot in Philadelphia, the film captures the upbeat atmosphere of Meek Mill and a group of young freestyle dirt bikers. It highlights the friendship, togetherness and camaraderie of the young men showing the young bikers as a close movement, rather than gang culture, which it is often mistaken for.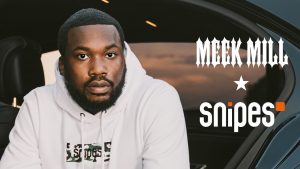 No actors were used in the film, the featured bikers are all authentic freestyle bikers that were cast by inviting them to take part in the film – quite a risk considering that freestyle dirt biking is illegal in the city, incurring a $2,000 fine and 24 hours in a cell if caught.
With an Instagram following of 17.9m followers, Hip Hop star Meek Mill is the perfect brand ambassador for Snipes, which is fast becoming well known as a brand synonymous with hip hop and rap culture. Established in Essen, Germany, it has now expanded to Austria, Switzerland, Netherlands, Spain, France, Italy and USA.
Pascal Kerouche is a renowned German photographer who is well known for his shots of hip hop stars and images from The Bronx in New York. Having snapped the likes of Ja Rule and Snoop Dogg, he is now back in Germany documenting the German hip hop scene.
Source: HAMLET