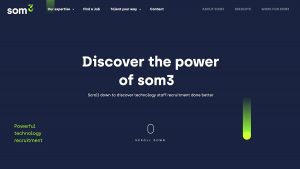 Steve Morrisey isn't a first timer when it comes to starting businesses in the IT Recruitment space, in-fact som3 will mark his third, having previously launched, built and successfully sold two companies.
This drive and passion has now been ploughed into his third and latest company, and he chose the team at Ultimate to bring everything to life with a new brand and a fresh website.
Som3's message is simple – to help the best people find the best people, easily. And this has been reflected in an easy to use yet modern website and memorable website.
Starting with the brand, the name som3 comes from a combination of pride and experience together with a quirky dose of OCD. S.O.M are Steve's initials. His pedigree in the sector of recruitment and the fact this is his third recruitment company is only part of the reason there is a 3 in the company name.
With the brand and messaging established, Ultimate moved on to designing som3's very first website, a functional yet distinguished website that allows him to stand head and shoulders above his competitors.
Steve Morrisey, Managing Director and Founder has said: "Working with the Ultimate team has been like working with my own marketing team. They understood my vision from the very start, and what they have delivered is second to none. We have launched the business with a bang."
Working with Steve and his team these past few months has genuinely been a brilliant experience for all involved at Ultimate.
Source: Ultimate