Giving the perfect gift can cause a lot of stress during the holidays, lucky for everyone, we have the answer.
The Connecticut Lottery Corporation, through its partnership with Decker, a strategic and creative advertising agency, and Makiaris Media, have launched their "Spirit of Winning" holiday campaign.
"We are very pleased with our holiday campaign this year. The Spirit of Winning is a great theme that will resonate with Connecticut consumers. We're really excited about our TV, radio and digital videos. All highlight that CT scratch tickets make great gifts, with a reminder coming from a surprising source. The ads are fun and humorous and will be a hit in our market. We have beautifully designed POS & digital ads with rich, classic holiday graphics that highlight our scratch game line-up very well. " said the Senior Director of Marketing, at the Connecticut Lottery Corporation, Pete Donahue
Key to the campaign strategy was the promotion of holiday scratch tickets as an integral part of everyone's holiday tradition thereby driving sales and positioning the Lottery as an important part of the holiday fun and joy.
The Big Idea
As idea exploration started, a simple truth rose to the top – holiday shopping is stressful. This is an all-too-real feeling during the holidays that we've all experienced, not knowing what to give. So, through an unlikely snowman hero, this campaign positioned scratch tickets from the CT Lottery as the perfect holiday gift. Give tickets and eliminate the stress of shopping. From TV through social, digital, OOH, and POS, the snowman helps those holiday shoppers, who are still searching for the right present, discover the perfect gift.
"We wanted this campaign to be a fun experience for the viewer and to spotlight the reality of holiday gift giving – we really don't have any idea what to give people. The Spirit of Winning comes alive as our hero snowman pops up at the exact moments of gift decision making in the most unlikely of places throughout the campaign. In radio, we even get to hear from his POV, since he's not too chatty in the TV and social." Said Decker Creative Director, Dom DeLoya.
The campaign runs through mid January.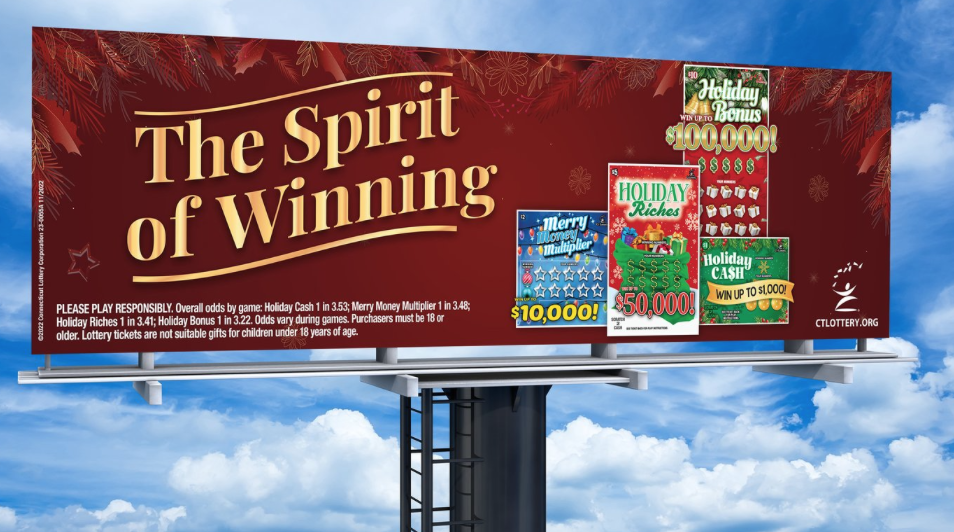 "Lottery gift giving has become a staple of so many people's holiday tradition because, at its best, it provides that same unmistakable sense of optimism and hope that we all associate with this special time of year. Dom and his team did such a great job of locking in to that holiday magic with the Spirit of Winning – finding that perfect balance of humor, warmth, and universal truth." said Andrew Kesin, SVP, Strategy at Decker.

Source: Decker